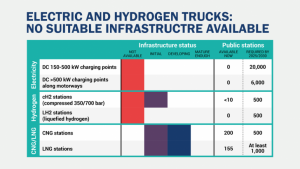 The European Automobile Manufacturers' Association (ACEA) has published data on the severe lack of recharging and refuelling infrastructure suitable for electric and hydrogen powered trucks across the EU. This paper is released ahead of a decisive meeting on Europe's first-ever CO2 targets for trucks, taking place next week between representatives of the European Parliament, the 28 national governments and the European Commission as part of the 'trilogue' negotiations.
According to conservative estimations, at least 6,000 high-power charging points for electric trucks (DC >500 kW) would be needed along EU motorways by 2025/2030. In addition, another 20,000 'regular' charging points suitable for trucks are required − bringing the total to 26,000. Similarly, hydrogen filling stations for cars are not suitable for trucks, given that the pressure storage is too small to meet truck demand. Some 1,000 truck-specific hydrogen stations are needed by 2025/2030, but less than 10 are available across the entire EU today – none of which are suitable for long-haul trucks.
"The shocking fact is that there is not one single public charging point for long-haul trucks available today," stated ACEA Secretary General Erik Jonnaert.
More details here.