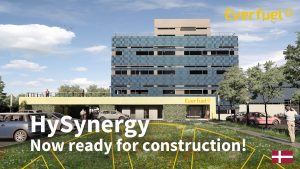 The Danish start-up, which is very active in Northern Europe in the construction of stations, has announced the imminent construction of the largest electrolyser in Europe. The start-up received a construction permit and selected the master builder.
The 20 MW capacity system will be operational around mid-2022 in Fredericia (Jutland) in Denmark. This electrolyser will produce up to 8 tons of green hydrogen a day.
This is only phase one of the project HySynergy. The aim is to reach a capacity of 300 MW from here to 2024 for the second phase. This project, amounting to 250 million euros (about 293 million USD), is among the 6 retained by the Danish authorities and could be the subject of an IPCEI (Important Project of Common European Interest) in Europe as Everfuel is also involved in two more projects (Blue Seal and Green Fuels).
When the electrolyser has reached its fullest capacities it will enable to save 214,000 tons of CO2 emissions a year. 20% of the green hydrogen produced will be used for mobility. The 80% remaining will serve for fuel refining.
Article written by Laurent Meillaud and translated by Logan King.