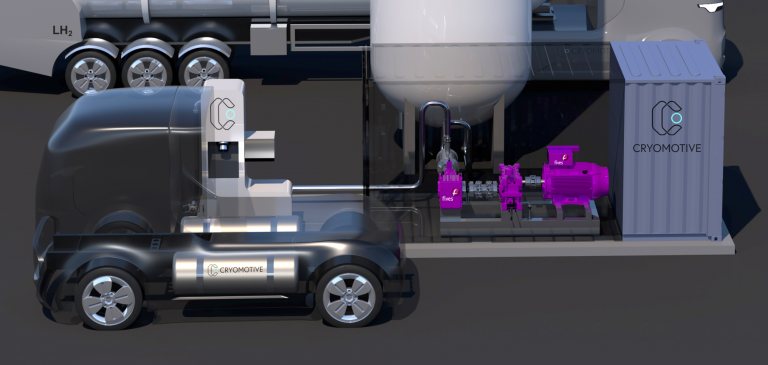 The German start-up Cryomotive and the French industrial group Fives will jointly develop a cryogenic pump for filling up transport trucks and other heavy mobility vehicles with hydrogen.
Cryogas is a cryo-compressed hydrogen gas (CcH2) with a high density of up to 80 kg/m3, and beyond at a pressure of between 30 MPa and 40 MPa. It is produced either by compressing liquid hydrogen (LH2) or by cooling compressed hydrogen gas (GH2) to cryogenic temperature. The ambition of Cryomotive and Fives is to develop a cryogenic piston pump with a high flow rate, low carbon footprint and low energy consumption to perform the operation.
According to both partners, this is a disruptive technology at the heart of future hydrogen filling stations for trucks.
Based on the anticipated performance of the future piston pump (codenamed Cryomec Hy-Filling), Cryomotive's filling stations will be able to deliver up to 80 kg of Cryogas in 10 to 15 minutes, thus refuelling trucks (up to 1,000 km range), buses and other heavy vehicles.
Article written by Laurent Meillaud and translated by Logan King