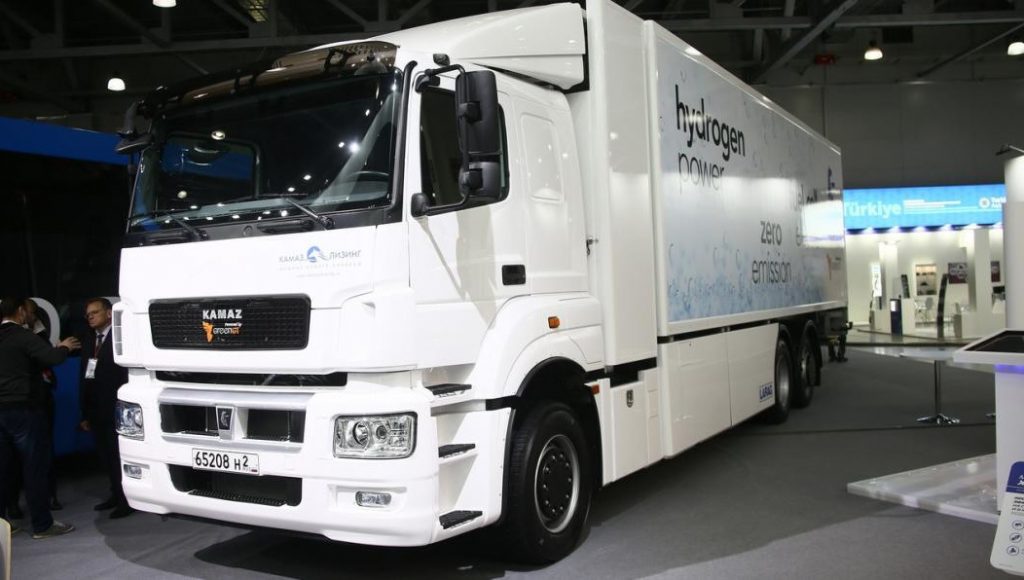 GreenGT, which is involved in the H2 truck through the CATHyOPÉ project, has announced an agreement with KAMAZ, the leading Russian truck and bus manufacturer. They will develop industrial trucks with electric-hydrogen propulsion. The announcement was made at the ComTrans exhibition currently being held in Moscow where the two partners unveiled a prototype.
This 40-tonne truck is powered by a 170 kW hydrogen fuel cell system with two 85 kW stacks supplied by six hydrogen tanks. It has a combined storage capacity of about 45 kg (99lbs) of hydrogen. The 570 hp truck claims a range of 500 km (about 310.7 mi) and can be refueled in less than 15 minutes. The prototype presented in Moscow is in a 6×2 configuration based on a KAMAZ chassis-cab. The fuel cell system was entirely developed by GreenGT S.A. in Switzerland as part of the GoH! (Generation of Hydrogen) project.
This project, which was initiated by the Nomads Foundation in 2018, has resulted in the development of a Swiss hydrogen truck whose first public appearance is scheduled for November 10-13 as part of the 11th Swiss Commercial Vehicle Show in Bern.
Article written by Laurent Meillaud and translated by Logan King.