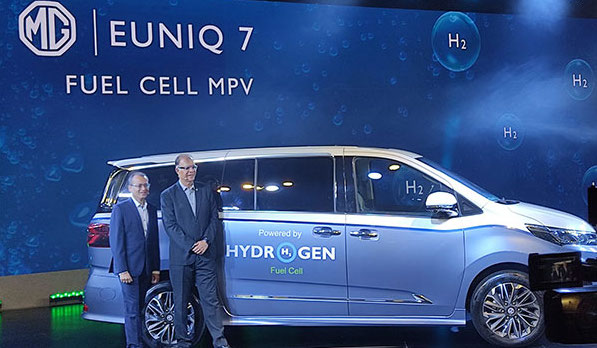 Tata and MG India communicated on hydrogen at the Auto Expo show which ends this week. Cummins and Plastic Omnium were also there.
Some media outlets highlighted the introduction of the Euniq 7, a hydrogen-powered MPV presented under the MG Motor India brand. It is merely a renamed version of the Maxus Euniq 7, released in 2020 in China. And for good reason, these two brands are owned by the group SAIC (Shanghai Automobile Industry Corporation). The vehicle's range is 605 km and its (third generation) fuel cell is called PROME P390.
As regards to Tata, the company did not have a car to present, but a bus: the Star EV Fuel Cell. The group, which owns Jaguar Land Rover, recalls that it is the first Indian manufacturer to have set up a hydrogen laboratory. The latter is based in Pune (Centre-West India).
Other manufacturers included Toyota and Hyudai, which exhibited the Mirai and the Nexo. The Volvo Eicher Commercial Vehicles (VECV) group, a joint venture between the Volvo Group and Eicher Motors, presented a prototype truck with a fuel cell.
Cummins was also exhibiting at the Show. The company displayed a hydrogen-powered combustion engine (for buses and trucks), a fuel cell (the group has deployed 2,000 of these for various uses) and an electrolyser.
Meanwhile, equipment and engine manufacturers participated in Auto Expo Components, which took place from 12 to 15 January. The show, which was held at a different venue, gave Plastic Omnium the opportunity to present its solutions, including fuel cells and hydrogen tanks.
India, which is expected to overtake Japan to become the third largest automotive market, has an interesting potential. The country has set a target of 30% electric vehicles by 2030. In addition, it has decided to allocate 2 billion to develop green hydrogen.
Article written by Laurent Meillaud and translated by Logan King