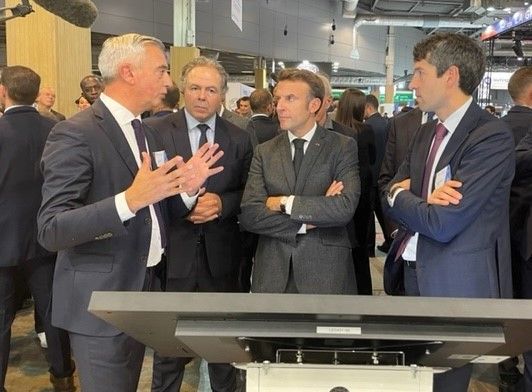 During his visit this morning, the Head of State made sure to pass by the hydrogen area.
President Macron first visited Renault, whose subsidiary Alpine is exhibiting a magnificent hydrogen-powered hypercar. During his trip, the Head of State also passed by the Hopium stand, where he met Jean-Baptiste Djebbari, his former minister who is now the Chairman of the Board of Directors. Here is a video of his visit.
Emmanuel Macron also made a diversion to the electric and hydrogen area for professionals. He visited Stellantis, Plastic Omnium and Symbio.
For scheduling reasons, he was not able to see everyone. But this shows that the Head of State is interested in the hydrogen sector.

Article written by Laurent Meillaud, translated by Logan King and reviewed by Marina Leite.