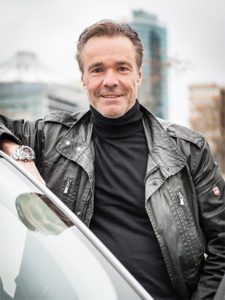 Thirteen partners from the worlds of politics, business and science came together to start the Wasserstoff Brennstoffzelle Deutschland (Hydrogen Fuel Cell Germany) initiative in 2015. Their goal was to get hydrogen and fuel cell technology off the ground in Germany and smooth the way for sustainable mobility and environmentally friendly energy storage.
Today, this initiative is being promoted in the country, thanks to the actor and conservationist Hannes Jaenicke. He's been appointed as an ambassador for hydrogen and fuel cells. "No matter if they're being used in your home or on the motorway, fuel cells are all-rounders for climate protection", he says.
Backed by the Federal transport and digital infrastructure ministry, this campaign has adopted the slogan "Energy for ever".
WBD reminds that cars with fuel cells are today already at the stage where they can drive over 500 kilometres on a single tank. Filling an empty tank with hydrogen takes just three minutes. Soon, hydrogen mobility will be available extensively in Germany : 400 new refuelling stations are planned to be open by 2023.
Hydrogen Fuel Cell Germany also says, on its website, that hydrogen is not only a fuel for cars, buses and scooters. It also provides an important storage opportunity for energy transition.
Heating appliances with fuel cells will soon be standard in private homes. According to a survey carried out by GfK, many technicians and end customers are convinced fuel cell heaters are a genuine alternative for your own four walls, which is why innovative heating systems will be launched widely on the market in 2016.