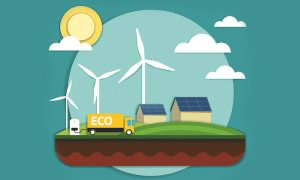 On the occasion of the HyVolution exhibition, Agnès Pannier-Runacher, Minister for Energy Transition, unveiled 14 new winners of the "Hydrogen Territorial Ecosystems" call for projects.
While a new call for projects* is already scheduled for 2023, as part of the National Strategy for Decarbonised Hydrogen and the France 2030 investment plan, the Minister revealed 14 new winners of the "Hydrogen Territorial Ecosystems" call for projects (for the final closing of the call launched in 2020). Here is the list:
Cannes Lérins H2: this project, led by the conurbation authority 'Cannes Pays de Lérins', is extended and aims to increase the uses initially deployed for passenger transport by bus, with an aid amounting to €1.8 million (about $1.95 million).
H2PRO: the companies Watea and Free2MoveLease will market a mobility offer for professionals using electric hydrogen utility vehicles. More than 650 vehicles will be deployed, particularly in the French regions of 'Auvergne-Rhône-Alpes' and 'Ile-de-France.' This project is supported to the tune of €15.5 million (around $16.8 million).
HYGI: this project, which is supported by AGROSOLAR in Guadeloupe, will receive €4 million in funding (about $4.3 million). One 1 MW (megawatt) hydrogen production unit will be developed. The installation, backed by a photovoltaic installation, will power buses for passenger transport.
HYNOVAR: this project, supported by the company HY2Gen, is based on a hydrogen production unit located in Signes, in the Var department. The hydrogen will be used mainly by maritime shuttles and trucks. The amount of ADEME aid selected is €15.4 million (around $16.9 million).
HyTouraine: this project is led by a consortium of five local players who are all coordinated by the Indre et Loire association of municipalities for energy. The aim is to initiate the local production of hydrogen for industrial and mobility uses (i.e. powering refuse lorries). The aid amounts to €3.4 million (about $3.68 million).
H2NFC: the second phase of the H2NFC project, validated with a €5 million grant (about $5.4 million), will strengthen the ecosystem supported by Greater Belfort with 1 MW of additional electrolysis and new public transport vehicles.
H24ByHyPe : the aim is to deploy in the Ile-de-France region new renewable hydrogen production capacities (5 MW of electrolysis) to power trucks and utility vehicles distributing goods. For this project led by HyPe Assets, the aid amounts to €21.4 million (about $23.15 million).
H2 Seine Vitry: this project, coordinated by the company Hynamics, aims to develop a 2 MW hydrogen production facility in Vitry-sur-Seine in order to decarbonise heavy mobility uses: 44 tonnes, refuse lorries, cement mixer, etc. It is receiving a financial support of €5.1 million (around $5.5 million).
LH2: this project aims to deploy passenger and freight transport within a 2 MW ecosystem. It is supported by the metropolis of 'Le Havre Seine' with a €7.8 million funding (about $8.4 million).
Ma'Hyage: through this project, TotalEnergies will install 3 renewable hydrogen stations on the A10 motorway to supply 29 heavy goods vehicles operated by 5 partner transporters. The project is supported to the tune of €4.6 million (about $5 million).
R'HySE: an extension of the HYAMMED project developed by Air Liquide, it will consist in distributing hydrogen that is co-produced in 'Fos-sur-Mer' to supply the first fleets of trucks operated by partner hauliers. The financial support amounts to €11.5 million (about $12.4 million).
TES : this project will enable Schiever to deploy a 2.5 MW production and distribution infrastructure at its Magny site for freight transport. It received a €4 million grant (about $4.3 million).
Vallée Sud H2 : The project consist in deploying an ecosystem initiated by the 'Vallée Sud Grand Paris Public Territorial Establishment'. The production of hydrogen, located in Chatenay-Malabry, will be used to power refuse lorries and on-demand buses. The aid amounts to €15.7 million (around $17 million).
ZEV II : This is an extension of the ZEV project, led by a consortium headed by the Auvergne-Rhône-Alpes region and involving the company HYmpulsion. The aim is to strengthen and deploy uses in the field of passenger transport. 50 coaches will be retrofitted with hydrogen fuel on behalf of the Auvergne-Rhône-Alpes Region. The aid for this project is €10 million (about $10.8 million).
The total aid for all these projects is amounting to €126 million (around $136 million).
*This new call for projects will be launched after extensive consultation of the sector by the Ministry of Energy Transition and the General Secretariat for Investment (SGPI) in February.
Article written by Laurent Meillaud and translated by Logan King