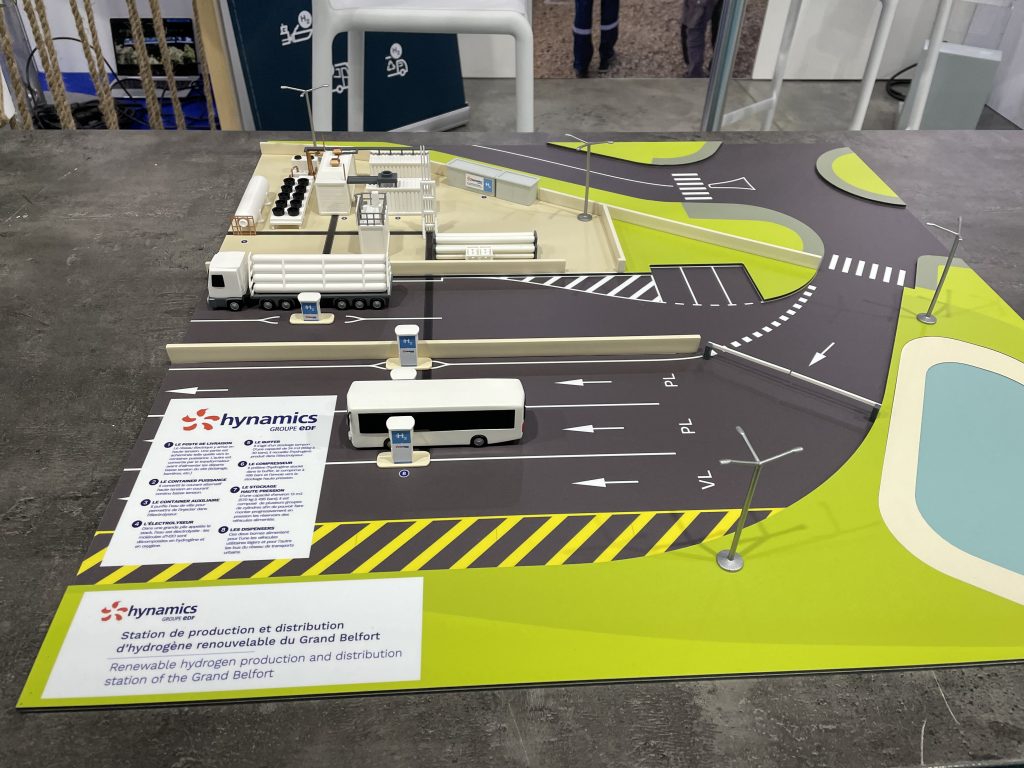 The EDF subsidiary has announced its first financial closing. For the Danjoutin station, near Belfort, it welcomes partners around the Hy4 project company.
The subject was discussed at the Horizons Hydrogène congress, where Hynamics spoke* on 15 November. The company mentionned the term 'financial closing'** and the creation of a project company around the Greater Belfort hydrogen station. But in the meantime, all the details have been settled. It is therefore a first for the EDF subsidiary, which already operates a station in Auxerre, but without any partners.
In Danjoutin, Hynamics is therefore surrounded by the Demeter fund (via the ecological modernisation fund for transport), the Banque des territoires, from its own funds but also on behalf of the State (via the France 2030 Innovation Territories programme) and Tandem (business real estate). These partners hold 30.4%, 23.8% + 23.8% and 2% respectively, with Hynamics holding 20% of the capital.
The Danjoutin station, which will be used to supply the buses of the Belfort agglomeration (7 in spring 2023, 27 in 2025), will be operational next spring and will be able to deliver 400 kg of hydrogen per day. This will be green hydrogen, generated by a 1 MW electrolyser (2 MW in 2025) with 100% renewable electricity.
The station also received a €2.7 million subsidy from the Ademe (around $2.85 million), €404,000 (about $424,000) from the Bourgogne Franche-Comté region but also from the European Commission via the CEF -Transport Blending Facility. It should be noted that the Banque des Territoires granted a €1.5 million loan (around $1.58 million) for the purchase of buses to the SMTC*** (mixed public transport union) of Belfort, while the region granted €204,000 in aid (about $214,250).
*And it was yours truly who facilitated the debate, with Pierre de RAPHELIS-SOISSAN – Business Development Director – HYNAMICS; Gautier CHATELUS – Deputy Director of the Infrastructure and Mobility Department – BANQUE DES TERRITOIRES and Philippe DETOURS – Managing Partner – DEMETER.
**Final stage of a transaction with the signature by all participants (managers / financial investors / industrial investors) of the legal documentation (shareholder agreement in particular) and disbursement of funds.
***SMTC (Syndicat Mixte des Transports en Commun): These are public transportation schemes in Belfort, Clermont-Ferrand, Grenoble, and Toulouse, in France.
Article written by Laurent Meillaud and translated by Logan King