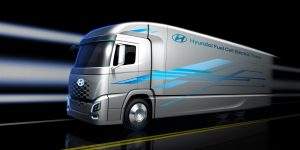 Better than Tesla electric semi and Nikola H2 truck ? Hyundai said in a statement it will partner with Swiss hydrogen company H2 Energy and fuel cell operators to provide 1,000 hydrogen trucks in the country after launching at the end of 2019.
Hyundai said its hydrogen trucks are expected to deliver a single-fueling travel range of around 400 kilometers.
For long-haul, hydrogen trucks have a huge advantage over battery rivals as heavy batteries can reduce cargo capacity and require longer charging times, Mark Freymueller, a commercial vehicle director at Hyundai Motor, told Reuters.
The korean company plans to sell more hydrogen trucks it in the United States, China and other European countries.