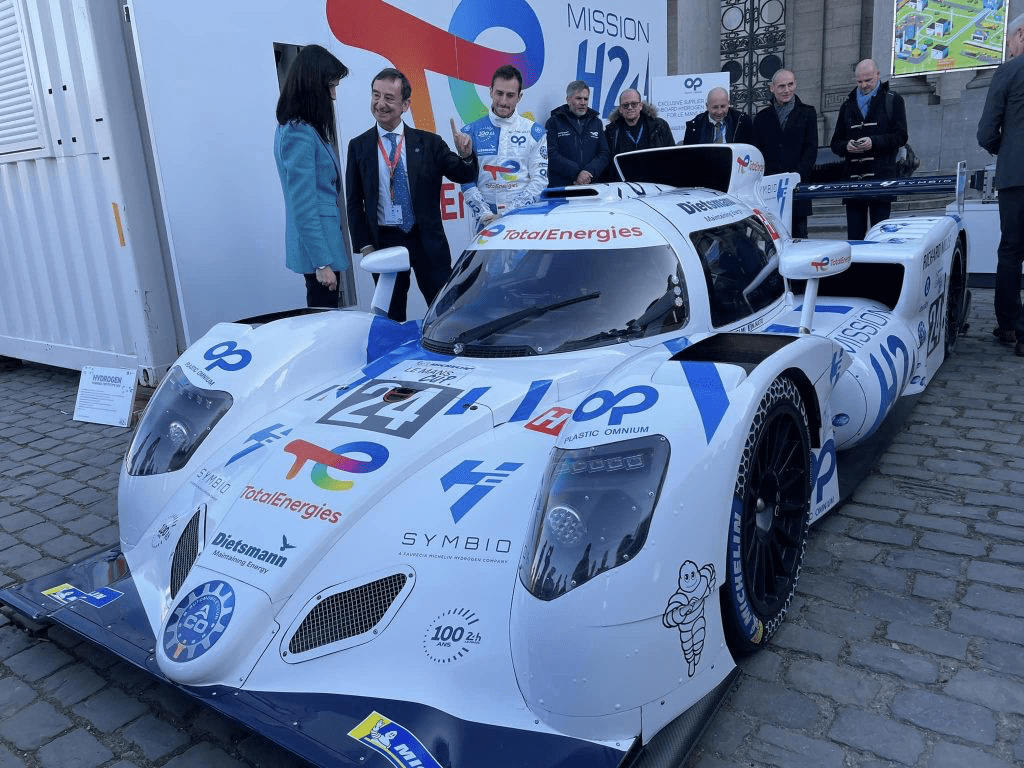 On Wednesday, 1st March, the Automobile Club de l'Ouest* (ACO) took advantage of a high-level conference on hydrogen and held in Brussels to exhibit the H24 in its new livery for 2023.
The curtain raiser was organised at the entrance of the Autoworld museum in Brussels, a very symbolic place, only a few hundred metres away from the European Commission. Pierre Fillon, President of the ACO, and Mariya Gabriel, European Commissioner for Research and Innovation, lifted the curtain to reveal a livery with multiple profiles, illustrating the different aspects of this racing car – a demonstrator of the energy transition.
Blue and bubbles symbolise hydrogen, as well as the car's emissions, and water. The stopwatch alludes to the time, which is flying by, to mark the celebration of the centenary of the 24 Hours of Le Mans in 2023, as well as the time that we hope to gain in the fight for climate change thanks to an accelerator programme for research into zero emission technologies.
The partners (GreenGT, Symbio, Michelin, Plastic Omnium, TotalEnergies) were present too.
Mariya Gabriel sat behind the wheel. The Commissioner had already had the opportunity to visit the Le Mans circuit, where she had a first drive with driver Stéphane Richielmi.
You can listen to our interview (in French) of Pierre Fillon (CEO of the ACO) here.
Hydrogen Today also met with Philippe Rosier, CEO of Symbio. Here is his interview (in French as well).
*Automobile Club de l'Ouest (Automobile Club of the West) 

Article written by Laurent Meillaud and translated by Logan King