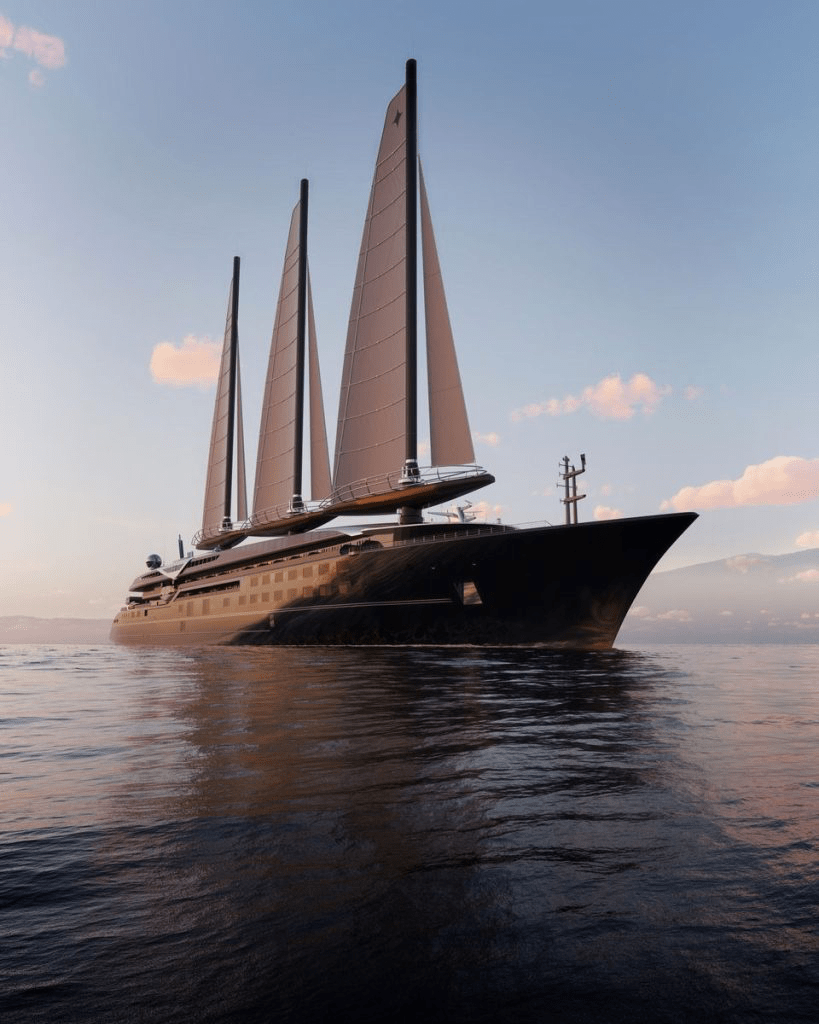 This is not the famous luxury train, but a sailing ship running on hydrogen and manufactured by Chantiers de l'Atlantique, a French shipyard which is one of the world's largest.
The Orient Express Silenseas is a reference to the legendary liner 'Normandie', built by Chantiers de l'Atlantique in the 1930s. At the time, it was the world's largest, most modern, most luxurious and also fastest ship. As for the Orient Express, it has been a cosmopolitan icon of train travel for over 130 years. The Accor group, which has placed an order for this ship, aims to offer its passengers a unique travel experience in a ship with a very modern design and a clear ecological ambition.
In 2026, the water Orient Express will be propelled by sails with the "SolidSail" technological design developed by Chantiers de l'Atlantique. The three rigid sails, each with a surface area of 1,500 square metres (4,500 m2 of total sail area), will be made of glass-polyester panels that fold like fans, and will be hoisted on balestron rigs. These masts will be reclining and will reach a height of over 100 metres. The specifications also include a hybrid propulsion system running on liquefied natural gas (LNG).
The Accor group wants the boat to be compatible with hydrogen. "I want to make a hydrogen-powered boat," said CEO Stéphane Bazin. "I have calmed down, even if it took me some time, because the legislation is not ready enough today to allow this new energy source. It probably will in 2026, I hope so anyway. So we are going to do everything we can to make the boat hydrogen ready."
While presenting the boat, the CEO of Accor also called out to the French Secretary of State for the Sea, Hervé Berville, who was present at the conference. "We need to talk to each other because if we want to promote the hydrogen sector, which Accor absolutely wants to do (…), you have to help us. (…) Help us to make hydrogen more present in our maritime sector," he said.
This 220 meter long floating palace will offer a double spiral staircase, a swimming corridor suspended between two decks, a 550 m2 spa, a marina, two restaurants, a lounge bar, a cabaret-theatre and a recording studio.
Article written by Laurent Meillaud and translated by Logan King