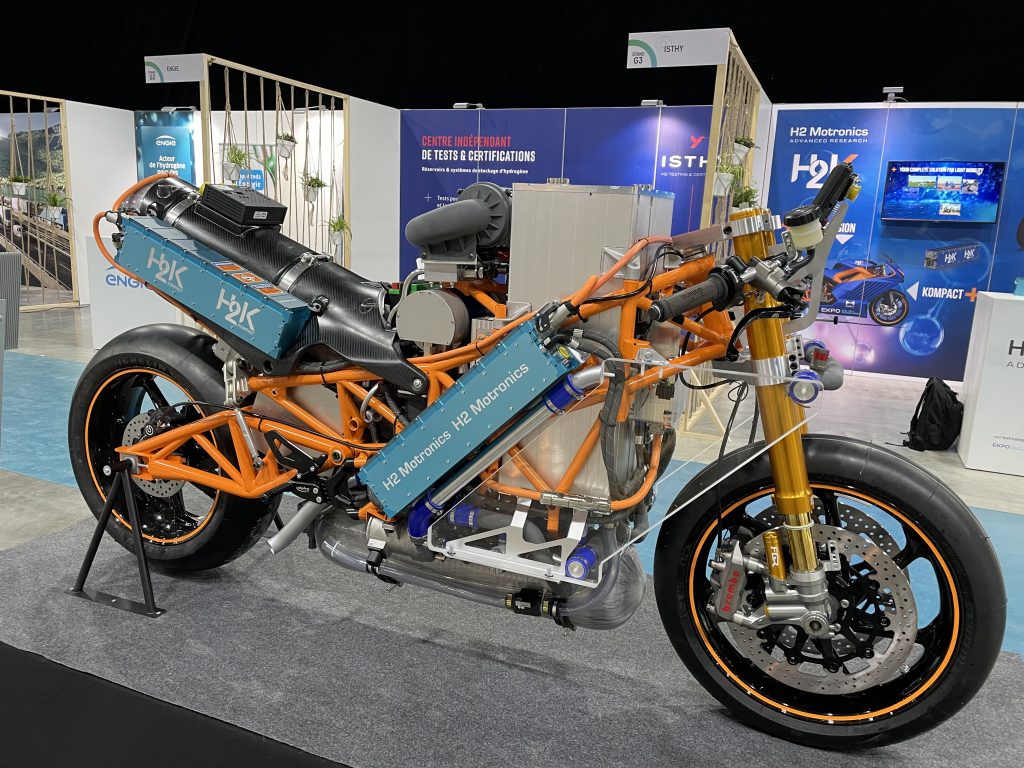 While the Forum Hydrogen Business For Climate (BFC) starts this morning in Montbéliard (Eastern France), with a multitude of interesting lectures, the must-see is at the exhibition where a demonstrator designed for the circuits is displayed.
And it is a competition motorbike presented on the H2 Motronics stand, a subsidiary of Texys Group established on the Nevers Magny-Cours circuit. Its codename: H2K* (for H2 Kompact). The choice was made to exhibit it without the fairing, so that the public attending the forum could see the components.
This project, started in 2019, aims to develop a hydrogen-powered racing motorbike to demonstrate the interest of the technology for light mobility. The H2K is equipped with a fuel cell supplied by EKPO, a 0.8 kWh battery and carries up to 1.5 kg of hydrogen at 700 bar (or 820 grams at 350 bar).
Thereby, H2 Motronics intends to reduce the mass of its motorbike by 20% compared to a fully electric sports bike for a total weight of 225 kg. But the real interest lies in the 45 km range in racing conditions. According to the simulations carried out by the design office, with a power of 100 kW, the prototype could come close to the performance of a combustion engine Moto3 (1'38.7'' on the Valencia circuit in Spain). The H2K could complete 18 laps of the track with a maximum speed of 237 km/h.
*This project is supported by the Véhicule du Futur cluster (organiser of the Forum Hydrogen Business for Climate). In addition, H2 Motronics is a member of the Bourgogne Franche Comté H2 Club, run by the same competitiveness cluster.

Article written by Laurent Meillaud and translated by Logan King