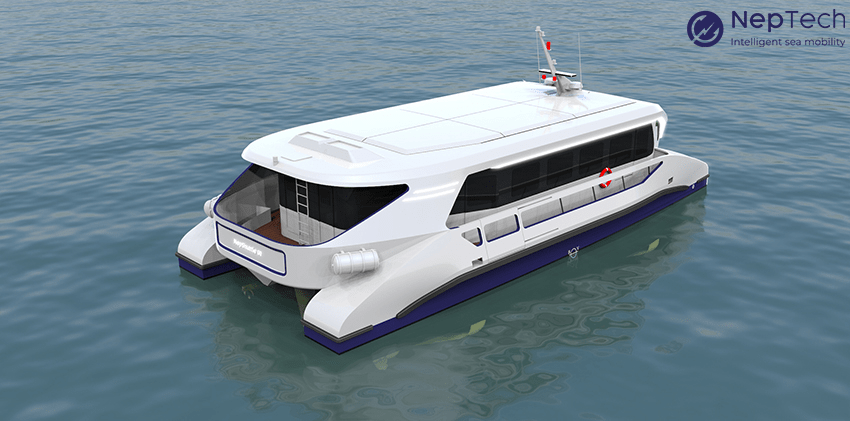 The start-up, which designs hydrogen-powered transport catamarans, has just completed a €1.2 million round of financing (about $1.27 million).
This is the first fundraising for this young company, based in Aix-en-Provence (Southeastern France). It amounts to €1.2 million, including €800,000 in private funds (around $847,000). Sud Mer Invest, CAAP Création (a subsidiary of Crédit Agricole Alpes Provence), Banque Populaire Méditerranée, Mer Angels and a Family Office participated in the financing, along with institutional partners.
For Neptech, this acts as a springboard for the commercial deployment of its vessels. Since May 2020, the company has been developing electro-hydrogen propulsion vessels of 10 to 30 metres in length, which can accommodate up to 200 passengers or around 20 tonnes of goods. To carry out its project, the company relies on a network of technological and institutional partners: test laboratories, fuel cell suppliers and artificial intelligence specialists.
While the company is in advanced technical sales discussions with more than twenty prospects in France and Europe, a first catamaran should be launched next year as part of the Paris 2024 Olympic & Paralympic Games. Out of 120 applications,* the company has been selected with EODev (Energy Observer) to design and operate passenger shuttles equipped with a hydrogen propulsion system on the Seine and in Marseille during the Paris 2024 Olympic & Paralympic Games. The project plans to associate the ships with floating hydrogen refuelling stations.
*In the framework of the call for innovations "Mobility Olympic and Paralympic Games Paris 2024" in the New Mobility & Active Mobility category, "Fluvial" section
Article written by Laurent Meillaud and translated by Logan King