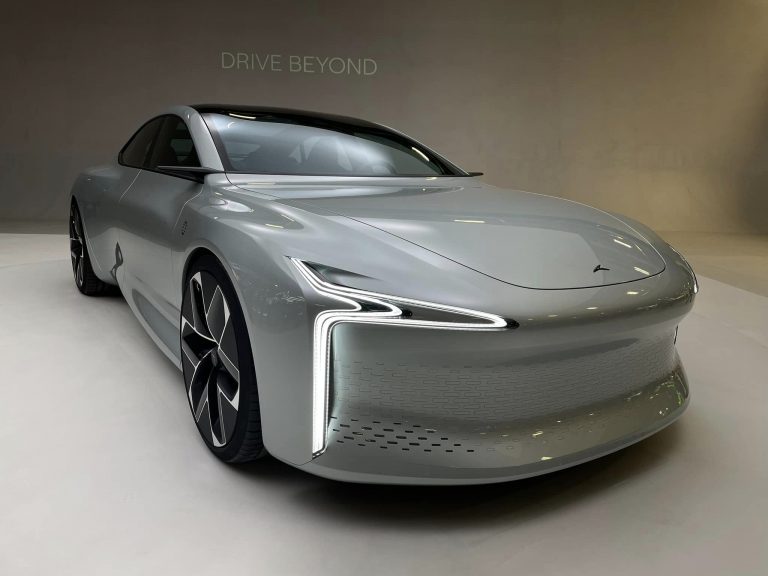 Despite a difficult context and detractors announcing its end, the show was able to seduce the public as 400,000 visitors came. And the organisers can say thank you to the hydrogen industry, which has allowed two new brands to emerge.
The French, some Chinese and the hydrogen players. The 2022 poster of this Motor Show could roughly be summarised as such, even if the reality is a little more complex. The hydrogen sector has undoubtedly contributed to the success of this show. You just have to see the extent to which the Hopium brand was put forward by the announcements made by the organiser, the Hopscotch agency. And the young brand lived up to the expectations that were placed on it. Its huge and minimalist stand could be seen from afar and put its car in the spotlight. The Machina Vision was clearly one of the most visited models at the show (including by President Macron, although this was not expected). And it's not so surprising to learn that CA Consumer Finance, Crédit Agricole's consumer credit subsidiary, has signed a treaty protocol with Hopium for the delivery of 10,000 hydrogen-powered saloon cars that the French start-up intends to produce in Normandy from 2025.
A contract worth €1.2 billion (about $1.75 billion), which is the largest of its kind ever signed at the Paris Motor Show. The car will be offered as part of programmes aimed at private or professional customers.
Namx, the other new entrant, must also be mentioned. The company, which was founded by the Franco-Moroccan Faouzi Annajah, is distinguished by a clever system of hydrogen cartridges that will be available in Capxstores. Like Olivier Lombard, the CEO of Hopium, Faouzi was asked to take part in various interviews on the main stage of the Show.
And then there was the electric and hydrogen professional mobility space, where several brands were on display such as: Hyvia, Stellantis, Symbio, Plastic Omnium, Hype taxis (with the bank of territories), HRS, Engie Solutions and Mob-Ion (with Pragma Mobility).
The presence of this ecosystem gave Hydrogen Today the idea of organising a video talk on October 18. We brought together the largest panel of its kind, with 12 guests (including France Hydrogène). The players were very grateful indeed for this discussion. Then, on October 19, we had the privilege of interviewing Olivier Lombard from inside the Hopium Machina Vision. We are the only ones who have been given the chance to spend so much time with him.
PS : Both video talks will soon be available with english subtitles. However, if you are too eager to attend and have a grasp of the French language you can always click here to access the talk with the various actors and here for Olivier Lombard's interview.

Article written by Laurent Meillaud, translated by Logan King and reviewed by Marina Leite.