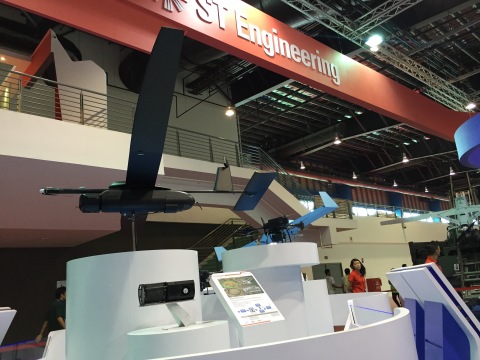 A consortium of Singaporean institutions and private sector companies* have worked jointly to achieve a record 6 hour endurance, 300 km flight on the Skyblade 360 UAV built in Singapore by ST Aerospace.
Besides achieving a significant technical and performance milestone for hydrogen-on-demand enabled fuel cells, it is also the first time in the world that a fuel cell moves beyond the prototype stage and enters the standard products list of a UAV manufacturer. The Skyblade 360 UAV was showcased at the 2016 Singapore Air Show.
The Skyblade 360 fuel cell system developed by HES and DSO is extremely lightweight in comparison to lithium batteries that typically power this aircraft, and it is also extremely compact: its 1L fuel cartridge holds a whopping 1000Wh of usable energy. Unlike a typical hydrogen fuel cell, the system doesn't store its fuel as pressurized hydrogen gas, but stores it as a solid chemical material – making it easy for end-users to handle in the field.
*including HES Energy Systems, ST Aerospace, DSO National Laboratories, and the Future Systems and Technology Directorate of Singapore's Ministry of Defense