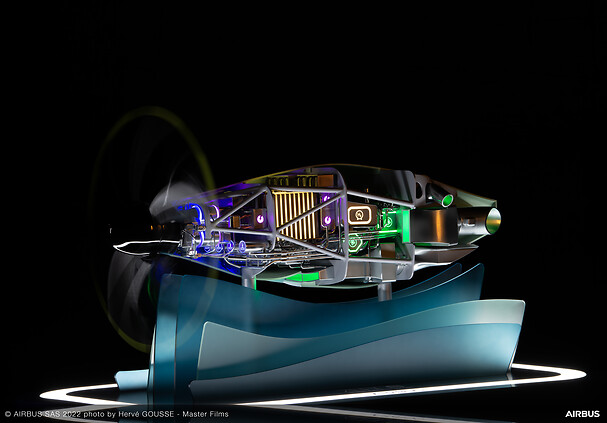 The aircraft manufacturer, Airbus, is very active in the field of hydrogen. It has just unveiled a fuel cell propulsion system while preparing for the coming of hydrogen at the Toulouse-Blagnac airport.
First, a little technical information. The European aircraft manufacturer has just unveiled one of the solutions that may be used in its future carbon-neutral aircraft. It is an electric engine based on a fuel cell. To develop this system, Airbus has teamed up with fuel cell manufacturer ElringKlinger. As a matter of fact, the two companies have set up the Aerostack company for this purpose. This company is also involved in the H2Sky project, which is funded by the German government of up to €26.5 million (about $28.15 million). While the first fuel cell prototypes are being assessed by Airbus in Hamburg, the aim is to test them in flight by the end of the decade. The fuel cells will be integrated into a modified A380 that can carry liquid hydrogen tanks. Airbus explains that the advantage of fuel cells is that they can operate in zero-emission mode (without polluting) while offering variable power, depending on their number when combined. For instance, the aircraft manufacturer had unveiled its vision of 6 pods (combining electric motor and fuel cells). At this stage, this is no more than an option. Airbus wants to make sure that the solution could fly an aircraft with 100 people on board on a 1,000 nautical mile distance .
Simultaneously, the Franco-German group is anticipating on the infrastructure. It has signed a partnership with HyPort (the project company set up by ENGIE Solutions and the AREC (Regional Agency for Energy and Climate in Occitania) to support the opening of the refuelling station at Toulouse-Blagnac airport. The station is due to open in early 2023 and will be able to deliver 400 kg of hydrogen per day for ground transportation vehicles. With this station Airbus seeks to anticipate the implementation of the ecosystem. This partnership is part of the "Hydrogen Hub at Airports" initiative, which already involves a number of airports around the world.
In addition, Airbus has signed an agreement with ArianeGroup (of which it is a shareholder, along with Safran) to develop a liquid hydrogen refuelling station, also in Blagnac. It will be operational from 2025. The station will supply the Zero e demonstrator, preparing the future carbon-neutral aircraft of 2035.
Article written by Laurent Meillaud and translated by Logan King