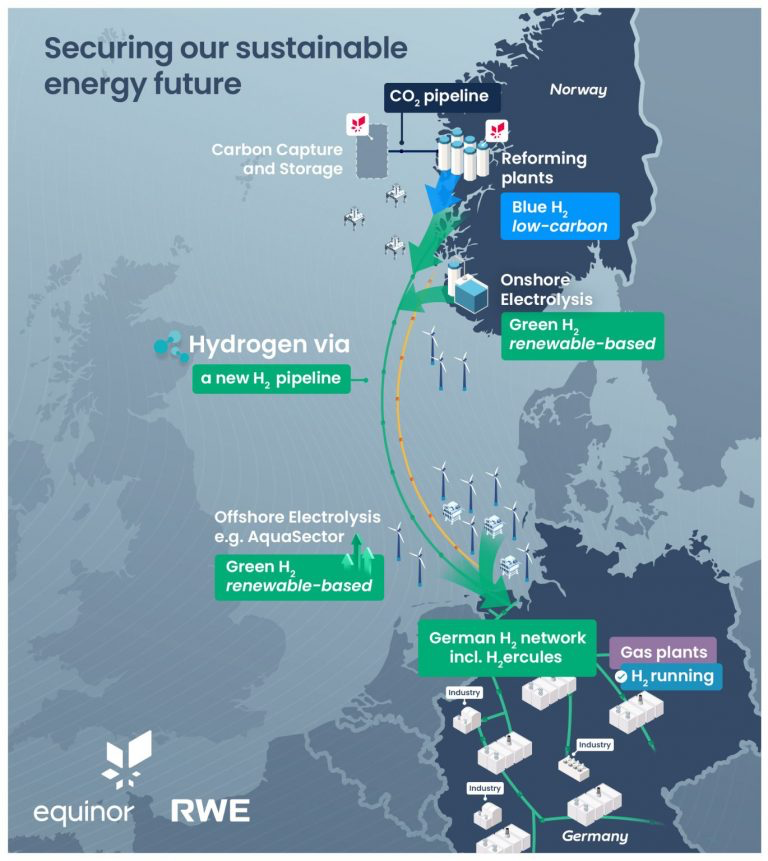 The Europe of pipes is setting up. After the H2Med project between Portugal, France and Spain, a pipeline project has been announced between Norway and Germany.
Today, the giants Equinor and RWE agreed to cooperate in order to decarbonise energy production in Germany using hydrogen. The agreement includes not only a pipeline* between the two countries, but also investments in production plants to scale up by 2030. The memorandum of understanding was signed during a visit to Oslo by the German Minister for the Economy and Climate Robert Habeck.
Berlin, which has been on the front line since the end of Russian gas supplies, has found a partner that will help the country to put coal-fired power stations behind. The pipeline will initially carry Norwegian gas, which will be used to generate electricity. In a second phase, the pipeline will be used to transport hydrogen. Equinor plans to invest in a 2 GW plant in Norway, which could reach 10 GW by 2038. This will be low-carbon hydrogen, which RWE will use in compatible gas power plants.
In this respect, the two energy companies will invest in CCGT (Combined Cycle Gas Turbine) plants, which can consume both natural gas and hydrogen. The aim is to reach 50% H2 by 2030 and 100% a few years later.
Subsequently, RWE and Equinor will collaborate on offshore wind power to produce green hydrogen. The two companies are currently involved in the Aquasector project in the North Sea, with a 300 MW wind farm. This hydrogen could be produced in Norway, Germany and surrounding countries and then transported via pipeline.
In the long term, green hydrogen will replace blue hydrogen in power plant.
*The practicability of such an undersea pipeline is currently being studied by Gassco, the Norwegian pipeline operator, as well as by Equinor and other partners
Article written by Laurent Meillaud and translated by Logan King