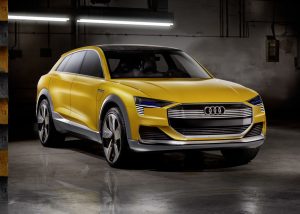 At NAIAS 2016 in Detroit, the brand with the four rings is unveiling the h-tron quattro concept. It's a sporty SUV that uses hydrogen as its energy source. The concept car combines a highly efficient fuel cell achieving an output of up to 110 kW with a battery that provides a temporary boost of 100 kW. Audi's fuel cell technology paves the way for sustainable mobility with the sporty performance for which the brand is renowned.
The fuel cell is installed in the forward structure. Its 330 cells form what is known as a "stack." Depending on the load point it operates in the voltage range of 220 to 280 volts.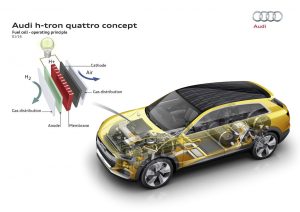 The Audi h-tron quattro concept uses only around one kilogram (2.2 lb) of hydrogen per 100 kilometers (62.1 mi). It takes only about four minutes to fill the tank, giving the car a range of up to 600 kilometers (372.8 mi). The conspicuously aerodynamic design with a Cd value of 0.27 plays a major part in its outstanding efficiency.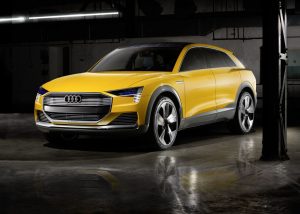 This concept also provides a foretaste of the technologies for piloted driving and parking that will go into production in 2017 with the next generation of the Audi A8 full-size sedan. Piloted driving at Audi revolves around the central driver assistance controller (zFAS). It computes a model of the car's surroundings in real time and makes this information available to the assistance systems and the piloted driving and parking systems. The latter can assume driving tasks during parking or in stop-and-go traffic on freeways at speeds of up to 60 km/h (37.3 mph)