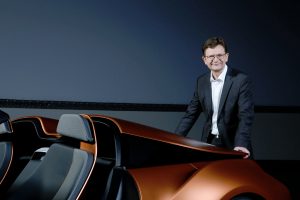 Speaking at the Aachen Colloquium 2016 (The future of driving pleasure), Klaus Fröhlich, Member of the Board of Management at BMW AG, Development, outlined the forthcoming drive technologies set to take us forward into the future
It will be a few years before the battery electric vehicle (BEV) becomes the all-encompassing solution for customers and model classes across the board. Pure battery-electric drive systems allow customers whose daily journeys don't generally exceed 100 kilometres (62 miles) to enjoy zero-emission electric driving in small to medium-sized vehicles. The BMW i3 exemplifies a possible approach here, and now also offers customers an electric range of over 200 km (125 miles) in real-world use.
When it comes to medium-length journeys and mid-size vehicles, the BMW Group offers an extremely wide choice of plug-in hybrid models (PHEVs). These all-rounders offer an entry point into customer-focused e-mobility in many segments.
Meanwhile, hydrogen-powered fuel-cell electric vehicle (FCEVs) offer the ideal combination of zero-emission motoring and everyday practicality when extended ranges and high running resistances are required. The key benefit for customers of fuel-cell drive systems is their short refuelling time – which is similar to that offered by vehicles with conventional combustion engines. What is lacking here, though, is the requisite hydrogen infrastructure and production set-up, and cross-sector partnerships have been launched to accelerate the process of establishing such an ecosystem. All of which means that the large-scale manufacture of hydrogen fuel-cell technology will become viable in the course of the next ten years, putting it firmly on the radar for customer usage.
The latest demonstrator and research vehicle with a hydrogen fuel-cell electric drive system is derived from the BMW Group's modular electrification toolkit. Partner networks, such as the one that exists between the BMW Group and Toyota, are an excellent way of arriving at objectives more quickly and cost-effectively.