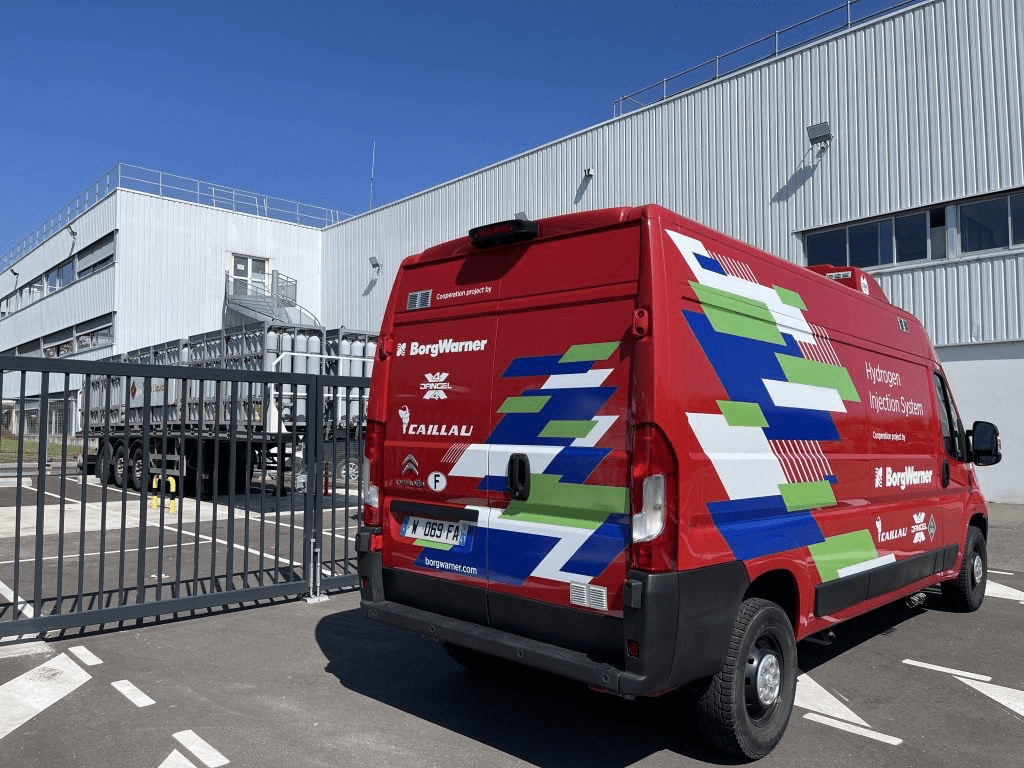 BorgWarner believes in the potential of the combustion engine powered by hydrogen. The group's research is conducted from France, at the engineering and production centre in Blois.
It is on a site that had its moment of glory with the diesel engine (and which bore the colours of Lucas Diesel, then Delphi), that engineers are trying to demonstrate that it is possible to adapt the combustion engine and convert it to hydrogen to decarbonise transport. It is located 3 km away from one of the most beautiful castles (châteaux) in the Loire Valley. BorgWarner developed the components (injectors, valves, rails) in the summer of 2021 and integrated the technology into two utility vehicles the following year. The group is driving its vehicles on open roads and has carried out try outs to determine the efficiency of a hydrogen engine in real conditions.
Jean-Luc Béduneau, who is managing the innovation in Blois, thinks that efficiency is equivalent to that of a diesel engine. And it is even better in cold weather. Moreover, there is no longer any need to manage soot deposits and particles. The equipment manufacturer chose to initially adapt commercial vehicles that are already on the market, first with a Peugeot Boxer, then a Citroën Jumper. They have covered thousands of kilometres and have been tested by two thousand people. The range is between 300 and 500 km, compared with 248 km for the electric version. It is almost zero emissions (0.4 g per km) and NOx (nitrogen oxide) emissions are below what the future Euro 7 standard should offer, with 3.9 mg per km instead of 60. The extra weight is 240 kilos: a figure to be compared with the 450 kilos of batteries that would be needed to electrify such a vehicle.
These data will be shared in Vienna, Austria, at a world-renowned engine symposium held next week.
In comparison with a similar fuel cell utility vehicle (in this case the Hyvia Master H2 Tech), the BorgWarner converted Boxer and Jumper have a slightly longer range (450 km compared to 400 km) and refuel faster (74 km per minute compared to 60). Energy consumption is slightly better on the fuel cell Master (0.7 Wh per km compared to 0.7 for the Boxer and Jumper).
Competitors among the OEMs include Bosch and Denso. BorgWarner is quite confident, as manufacturers are reconsidering the H2 combustion engine. They were sceptical because of BMW's failure, but the progress made by the turbo and direct injection is already a game-changer. On the other hand, announcements from Toyota – which is working on such an engine in competition, alongside the fuel cell – have also caused confusion. Adaptating the engine is not so complicated, but still, it requires modifying the cylinder head, the injectors and the piston, as well as using suitable materials. BorgWarner believes that there is room for improvement by working on the compression ratio, ignition and control software. In the meantime, hundreds of hydrogen injectors "made in Blois" can be found at car manufacturers all over the world.
The group has invested several million in this project. It has adapted test benches and also installed a hydrogen corner with an electrolyser (from Elogen and producing 20 kilos per day) and hydrogen bottles. BorgWarner consumes 250 kg of hydrogen per day for its engine tests and for charging the two vehicles.
By the end of this year, mass production will begin for off-road vehicles. The date is set for the beginning of 2025 for manufacturers who want to apply it to commercial vehicles.
If you want to learn more about BorgWarner, here's our latest article about the group.
Article written by Laurent Meillaud and translated by Logan King