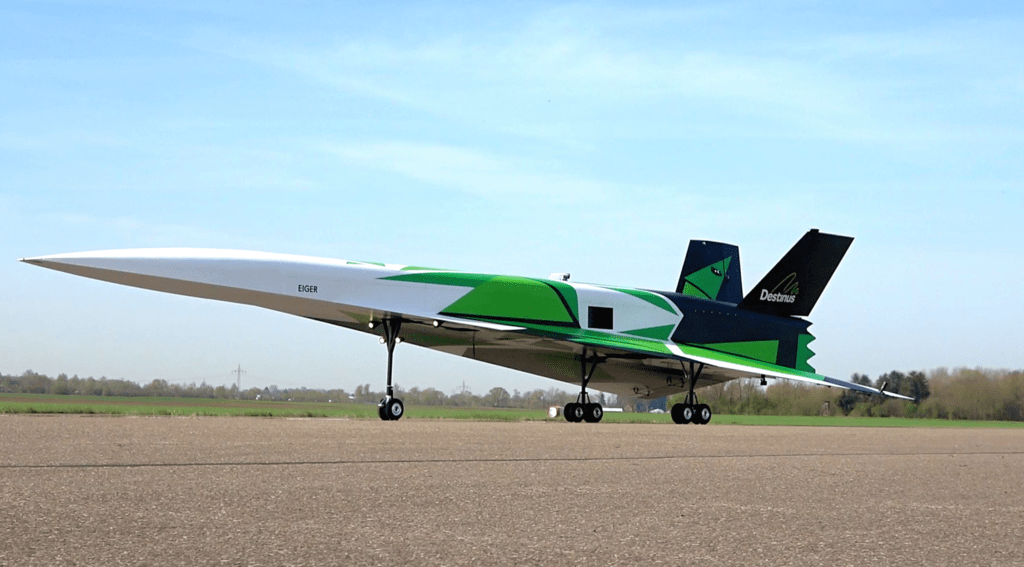 Swiss start-up Destinus is developing a hypersonic hydrogen aircraft. A project that may seem crazy, but…
Everyone remembers the Concorde: a supersonic aircraft that took only 3 hours to fly from Paris to New York. It made its last flight in 2003, after a 27-year career. Today, a number of players are working on the return of this kind of aircraft, including the American start-up Boom Supersonic, which plans to use a synthetic fuel.
But there's something even faster. The start-up Destinus, created in 2021 by the Russian entrepreneur and physicist Mikhail Kokorich, is developing a hydrogen drone that is intended to be a combination between a plane and a rocket. This craft will use hydrogen afterburners. The company has already flown two prototypes (Jungfrau and Eiger) and plans a third for 2024. The promise is to fly at five times the speed of sound, which would make it possible to fly from Frankfurt to Sydney (in 4 hours 15 minutes instead of 20 hours) and from Tokyo to Memphis (in 3 hours 15 minutes instead of 12 hours 45 minutes).
The uniqueness also comes from the fact that the plane is autonomous. It will be supervised remotely by a pilot, who will be able to take the controls if necessary.
Located in the canton of Vaud, in Switzerland, Destinus also has offices in France (Paris, Toulouse), Spain (Madrid) and Germany (Munich). The team is growing and includes a number of key players, including Jean-Philippe Girault, an engineer who worked at the French aerospace research centre (ONERA) and for nearly 15 years at Safran. The start-up has also called on Michel Friedling, a former French Air Force general who was the first to head the French Space Command (CDE) created in 2018, and who is now a member of the start-up's strategic committee. Spanish astronaut Pedro Duque is also part of the team.
In 2022, Destinus raised €29 million (about $31,8 million). And recently, it received two grants from the Spanish government, amounting to €27 million (about $29,6 million). The start-up, which claims a letter of intent with the Flapper platform in Brazil for air freight, is also in discussions with Rochefort airport (Charente-Maritime, western France). It hopes to carry out tests there and establish a pilot hydrogen production station.
However, the Swiss start-up is not alone in this market. The American company Venus Aerospace, based in Texas, is working on the Stargazer. This aircraft would be able to fly at Mach 9 and cover 8 000 km in one hour.
If you want to know more about hydrogen in aviation, you should have a look at the aeronautics section of our mobility tab.
Article written by Laurent Meillaud and translated by Logan King