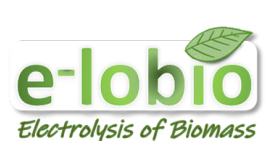 A European scientific consortium has launched the Elobio research project whose aim is to simultaneous produce green hydrogen and synthetic molecules from biomass (agricultural or forestry residues).
This programme, which is part of the Pathfinder Challenge 'New ways to produce green hydrogen' call for projects, aims to meet the challenge of producing hydrogen using less energy.
It is financed by the EIC (European Innovation Council) to the tune of €3.998 million over 4 years (about $4.25 million) and brings together 6 laboratories. It is coordinated by the French 'Research Institute on Catalysis & environment' based in Lyon (IRCELYON) and involves two other French labs (the Laboratory of Chemistry also in Lyon and the IC2MP in Poitiers). There are also two German institutes (Karlsruhe Institute of Technology, Fraunhofer Institute of Chemical Technology), one Dutch institute (the DIFFER) and two Spanish universities (the University of Castilla-La Mancha and the Polytechnic University in Madrid).
The aim is to carry out electrolysis selectively, using ultrasound or magnetic fields. This will allow for biomass to be broken down in a controlled manner and to be used on two levels. Firstly to produce hydrogen, but also molecules such as furan dicarboxylic acid (FDCA, a bioplastic precursor) and carboxylic acids (such as glucaric acid, which has many potential applications, particularly in the food industry or the synthesis of drugs). Naturally, the electricity used will be produced by renewable energy sources (wind, solar, etc.).
The research team combines materials science, electrocatalysis, chemical engineering, studies at the atomic scale and modelling at the macro scale, up to analysing the life cycle of the materials used.
Article written by Laurent Meillaud and translated by Logan King