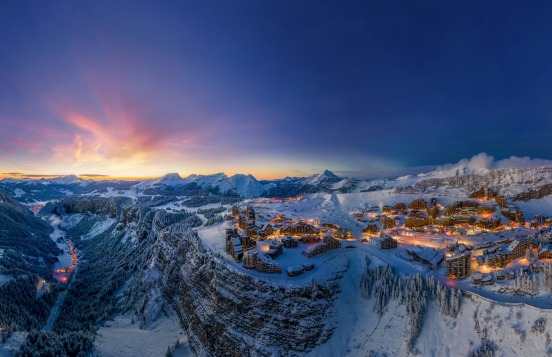 Energy Observer's hydrogen village will be displayed in the resort of Avoriaz (Haute-Savoie) from 4 to 24 February as part of an event called "Au sommet des énergies positives" (At the summit of positive energies) whose purpose is to put forward the challenges of the energy transition high in the mountains.
After passing by Paris and Saint-Malo, the Energy Observer village is going to gain altitude. It will be visible in Avoriaz, a pioneering resort in terms of ecology, which created the "Flocon Vert" (green snowflake) label. This choice is also a way of paying tribute to the AURA region, which is committed to hydrogen through the Zero Emission Valley (ZEV) project. The operation is carried out through the Energy Observer endowment fund and in partnership with the commune of Morzine-Avoriaz, the event's host partner.
This summit will highlight: low-carbon energy mixes, mobility and zero-emission vehicles, and good practices in terms of energy sobriety.
Energy Observer is taking the opportunity to announce that the ship, which has passed the 50,000 nautical mile mark (92,600 kilometres), is in technical stop for several weeks in the Indian Ocean.
Article written by Laurent Meillaud and translated by Logan King