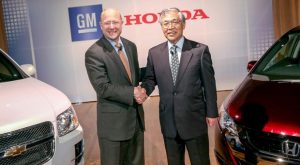 According to the Asahi Shimbun, Honda and General Motors will set up a factory to jointly manufacture fuel cells. The two automakers have been jointly developing fuel-cell systems and hydrogen tanks for FCVs since 2013.
They plan to begin mass-production of fuel cells at the new plant in 2025 at the latest, sources said. The companies expect that the plant will reduce production costs of fuel cells, in order to deliver more affordable cars.
The production of fuel cells can be costly because they use expensive catalytic agents, prompting automakers to scramble to forge alliances to reduce the cost for FCV development and production. That's why Toyota has formed an alliance with Germany's BMW to jointly develop key components for FCVs, while Nissan is collaborating with Ford and Daimler.