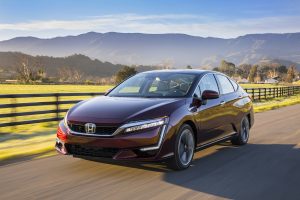 Honda will voluntarily recall 471 model-year 2017 Clarity Fuel Cell vehicles in the United States to update the Fuel Cell Electronic Control Unit (ECU) software, free of charge. In the U.S., the Clarity Fuel Cell is currently exclusively available for lease in California, and all affected vehicles will require the free repair at one of twelve Honda Fuel Cell dealers in the state.
The Fuel Cell ECU software responsible for monitoring voltage in the fuel cell stack may misinterpret a minor voltage variance and erroneously shut down the fuel stack in response, resulting in an unexpected loss of motive power, potentially increasing the risk of a crash. Honda has received no U.S. customer reports of this issue and there have been no reports of crashes or injuries.
If a vehicle experiences this issue, a warning message will appear on a screen below the speedometer indicating "Power System Problem. Stop Driving When Safe." In the event that a Clarity Fuel Cell driver sees this warning, Honda recommends stopping the vehicle in a safe location off the roadway as soon as possible. The vehicle can continue driving for a very short duration using electric power from the on-board traction battery, with that duration dependent on the battery's current state of charge.