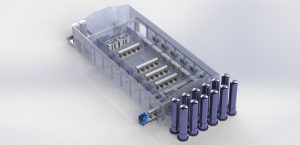 French manufacturer of Electrolysers, AREVA H2Gen, will be participating in China's Hydrogen and Fuel Cell Exhibition (CHFCE), the largest International exhibition in this country regarding hydrogen and this promising energy carrier.
At the CHFCE in Beijing, AREVA H2Gen will have a booth in order to present their innovative concept for high capacity (60 MW) electrolysis plants, as well as the core of their technology, a 1 MW power stack.
The concept for PEM technology electrolysis plants offered by AREVA H2Gen is aimed at the international market, including tapplications for the industry. The 60 MW plant will be able to produce hydrogen for industrial applications such as petrochemistry for example.
This type of plant will be essential too for promoting renewable energies – Power to Gas – where part of the production is actually lost. The Chinese market typically requires this type of solution.
For example in China, their large dams lose an impressive quantity of energy which is effectively produced, but not in a usable state. This loss is evaluated at 40 TWh of hydraulic energy which is not injected into the electricity grid. This electricity represents a market of, at least, 5GW of electrolysis, which equates to a potential of two hundred projects of around fifty MW.