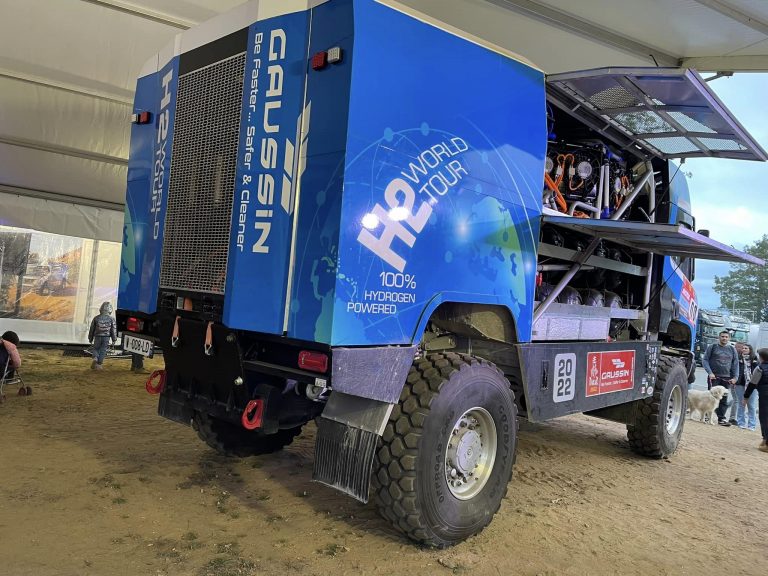 Gaussin and GreenGT presented their hydrogen-powered trucks to the public on September 24 and 25. One is intended for racing, the other for transporting goods.
Hydrogen today went to the 24 hours of Le Mans trucks, an event exuding passion. But just because you love mechanics doesn't mean you shouldn't be interested in the energy transition. Precisely, the manufacturers present at the event (Iveco, Mercedes, Renault Trucks, Volvo, Scania) displayed alternative energy vehicles.
An exhibition area (Innovation Camp, in partnership with the FIA* and Goodyear) showcased technologies such as liquefied gas, plug-in hybrid, battery electric and hydrogen. The 44-tonne truck developed by GreenGT as part of the Cathyope programme was part of the exhibition.
In this video, you can see it being driven near the paddock. This very truck also completed a tour of the Bugatti circuit in the early evening following the MissionH24 race car, also developed by GreenGT. Click here to see the video.
Gaussin, the logistics specialist, was also there. The firm, who brought two vehicles (one of 38 tons, the other of 75 tons) and an H2 generator, put on a show with its H2 racing truck. This truck, which drove on the Dakar Rally in Saudi Arabia, and which has subsequently started a world tour, made a stop in Le Mans. It also drove on the Bugatti circuit on Saturday evening.
Christophe Gaussin would like to participate in the 24 hours of Le Mans trucks. But this means a redesigning of the vehicle since its high ground clearance are adapted to the dunes of the Dakar but are not suitable for circuit races. It is only a matter of time but patience is still needed.
*International Automobile Federation

Article written by Laurent Meillaud, translated by Logan King and reviewed by Marina Leite.