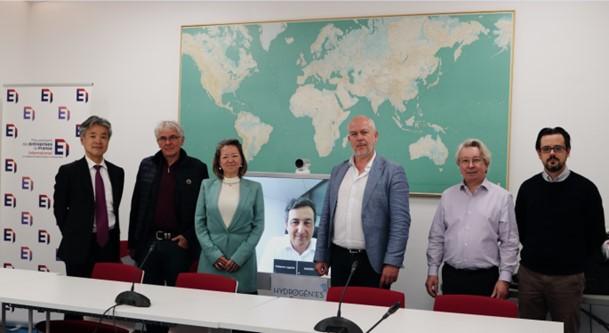 Hydrogénies 2023: hydrogen trophies will be handed over in 3 weeks
The President of the French region Nouvelle Aquitaine, Alain Rousset, was keen to personally give their prizes to the winners of the 4th edition of the Hydrogénies competition, the hydrogen trophies.
The ceremony will take place on Wednesday, 24 May at 5pm in the plenary hall of the Congress Center (Palais des Congrès in French) in Bordeaux. The event is part of the 24th European Conference on Energy Transition. This is the most important annual event for ADEME (the French Agency for Ecological Transition) and for the thousands of local government officials who participate.
Particularities of Hydrogénies 2023, the hydrogen trophies
The panel* met on 20 April at the MEDEF International offices where the Hydrogen Task Force is based, in Paris. This year, the competition organisation received as many applications as in the previous two years gathered. In addition, the level of quality and scope of the projects presented had increased significantly, sometimes making the panel's choices difficult. The requirements were notably related to environmental criteria, innovative character, creation of value and local jobs, international development and replicability to other territories.
"The list of topics proposed and the level of innovation are genuinely impressive. The readings are fascinating and the choices difficult. It was a great pleasure for me to play along. From my Brussels outlook in the framework of the Clean Hydrogen Partnership, I have noticed that many of the proposals are of a similar level to the suggestions for topics that we receive when making the European calls for projects", declared Michael Diderich, R&D Director, Hydrogen Europe.
The different prize categories
As a reminder, 8 categories will be rewarded as part of the hydrogen trophies 2023: Low-carbon or Renewable Industry Award; Renewable Storage and Valorisation Award; Rail or Aviation or Maritime/Fluvial Mobility Award; Land Freight Transport Award; Passenger Transport Service Award; Awareness, Education and Training Award; Decarbonisation of Industry Award (new award of Hydrogénies 2023); Territorial Transition Award.

*Bogdan GADENNE-FEERTCHAK, Director of Strategy & Development, MEDEF International | Coordinator, Hydrogen Task Force ; Michael Diderich, R&D Director, Hydrogen Europe ; Adamo Screnci, Consultant specialised in hydrogen, President of Suhyso ; Philippe MANDIN, University Professor at the Ecole Nationale Supérieure d'Ingénieurs de Bretagne Sud (ENSIBS) Lorient, Specialist in energy, electrochemical and hydrogen systems, processes and procedures, Researcher at IRDL, UMR CNRS 6027; Fabienne Lagarde, Vice-President for Higher Education, Research and Innovation at Le Mans Métropole Teacher-researcher : Pierre Serre-combe, Deputy Director of Energy Programmes in charge of New Hydrogen Technologies at CEA; Toshimichi Hasegawa, Deputy General Manager of the Paris Representative Office, Japan Bank for International Cooperation (JBIC); Laurent Meillaud, Editor of Hydrogen Today; André Asse and Leiko Sakurai (Sakura Consulting).

Do you want to know more about the upcoming hydrogen-related events? You should have a look at the calendar section of our website.
Article written by Laurent Meillaud and translated by Logan King