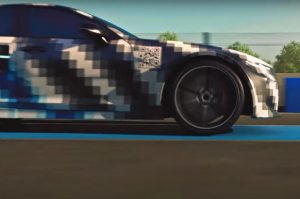 The Korean manufacturer forecast to speak on September 7 during an event entitled "Hydrogen wave". It will take place online starting from 8 a.m. (3 p.m. in Korea). On the conference website, as well as in the first teaser video, a sports car in camouflage can be seen speeding along a track. The car only emits water vapour and sprays a few drops on a snail that is standing next to the vibrator.
The whole point is to know whether It is a series model intended to strengthen Hyundai's offering or a car that can enter competitions.
Hyundai will say more on September 7, knowing that it will also talk about trucks and the infrastructure destined to fill up tanks with hydrogen. More than ever, Hyundai believes in this kind of electrification. In fact, the conference will feature the phrase 'hydrogen for everyone, everything, everywhere'. The idea is to use hydrogen in different modes of transport and to ensure that production and distribution keep up the pace.
The chosen date is no coincidence. It coincides with the "International Day of Clean Air for blue skies". It is to be noted that the day before, Hyundai will have already spoken at the IAA Munich -which replaces the International Motor Show Germany in Frankfurt- to talk globally about its decarbonisation strategy.
The conference can be followed live on Hyundai's Youtube channel.
Article written by Laurent Meillaud and translated by Logan King.