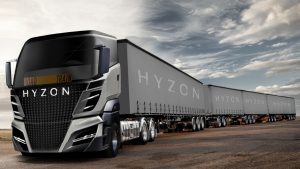 As the American company is starting to deliver its first hydrogen trucks to Europe, it has come to knowledge that 85 vehicles will be handed over to their customers by the end of the year. First incomes are expected next quarter. Hyzon has built up orders amounting for 83 million dollars (compared with 55 in April). However, the manufacturer specifies that some deals are not closed yet as it mentions the case of an Austrian client who desires 70 trucks for next year. Moreover, clients need time to get familiar with this new technology.
For now, this newcomer incur losses amounting to 9.4 million dollars in the last quarter, of which 3.5 million have been invested in research. Backed by the financial firm Decarbonization Plus Acquisition Corp, Hyzon Motors says that it possesses 517 million dollars in cash and believes it can wait until 2024 before selling any share.
Undoubtedly startled by Nikola's reversal of fortune -the latter was buttressed by the stock market before falling sharply- the manufacturer is not promising the moon.
Meanwhile, the company is also working on infrastructure. Hyzon has an agreement with Raven SR to deploy a hundred production hubs of hydrogen from waste. Two of those are already planned in California.
Article written by Laurent Meillaud and translated by Logan King.