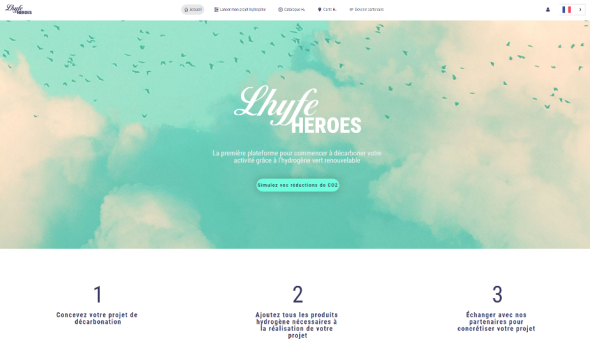 Under the name "Lhyfe Heroes", the company based in Nantes is launching a platform to bring together all the players in the supply chain and thus accelerate projects.
This is an initiative that goes in the right direction… Even if it is not a first. In Etupes, in the Doubs region, the consultancy firm Xydrogen was the first to launch an international marketplace. It is called XydroMark and comprises over 800 certified partners and users. The fact is that Lhyfe has greater visibility and will be able to convince large groups, such as the car manufacturer Stellantis, the retrofit (and hydrogen engine) specialist GCK, or the Portuguese manufacturer of hydrogen refuelling stations PRF. Lhyfe also wants to bring together hydrogen producers and distributors. By gathering all these players on a single platform, the interest for hydrogen project developers will be to see more clearly and save time in their deployment.
Through a simulator, Lhyfe Heroes makes it possible to get an idea of the key indicators of a project: volume of CO2 avoided, quantity of hydrogen required per year, average refuelling time for this type of vehicle, autonomy, etc….. And this is done in a few seconds, without registering, and from a few pieces of information (activity, vehicle, equipment, details, volume of use, etc.). Subsequently, the platform offers a selection of products and solutions already on the market. For instance, there are 8 categories of vehicles (buses, trucks, cars, refuse lorries, tractors, etc.), distribution stations, generators and producers of green and renewable hydrogen. Around a hundred solutions are integrated into the platform.
Then all you need to do is to contact these suppliers.
"At Lhyfe, we only have one obsession: to go fast because the energy transition must be done now. We designed Lhyfe Heroes to save time for the entire supply chain," explains CEO Mathieu Guesné.
Article written by Laurent Meillaud and translated by Logan King