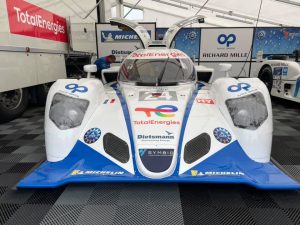 Hydrogen Today went to the Mission24 stand last weekend for the 24 Hours of Le Mans. It was located in Maison Blanche -a nice spot to watch the race- and hosted visitors during the endurance event. Two cars were on display: the first prototype LMP2HG* and the latest development car which competes with H24 Racing.
The former, which is the only one to offer a passenger seat, took a few celebrities for a lap of the circuit. Among those there were the French Philippe Rosier, CEO of Symbio, and Philippe Montanteme, Director of Marketing Research Strategy at TotalEnergies. The prototype of the AOC (Automobile Club of the West) and GreenGT also rode alongside Hisatake Murata, head of Toyota Gazoo Racing and of the competition at world level; Jim Campbell, Vice-President of motorsport and performance at Chevrolet; and Jim France, head of the IMSA (International Motor Sports Association) and NASCAR (National Association for Stock Car Auto Racing) in the US. A great line-up.
As for the development car, it left at 3:42 P.M to complete, as planned, a lap to open the race. It had never been driven in the rain before. It was thus a double first time. The car will soon take part in a race at Spa. GreenGT also planned other activities, both with its cars as well as its hydrogen truck. Either way, it will be discussed more later on.
*of which a copy was exhibited in the village for the public.
Article written by Laurent Meillaud and translated by Logan King.