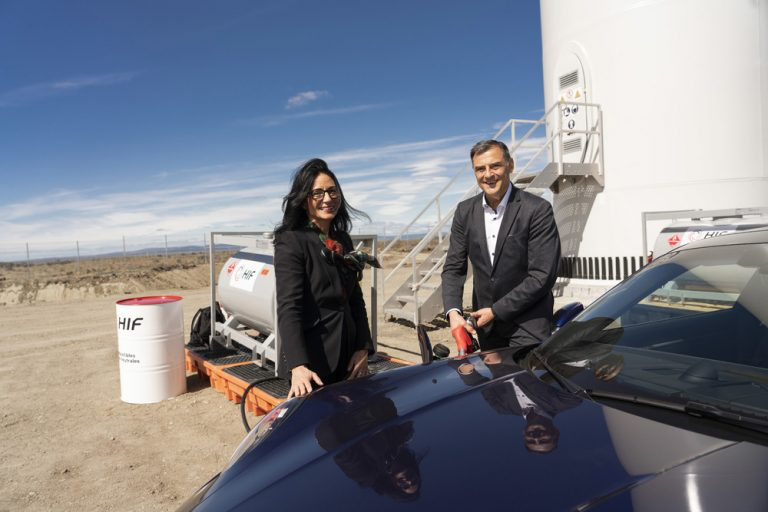 Porsche is involved in a project that will be producing e-fuels from wind turbines and electrolysis. The site has just opened in Punta Arenas, in Chile.
Not once is the word hydrogen mentioned in the press release. However, at the heart of the project there is an electrolytic process powered by renewable electricity (from wind turbines) and the production of hydrogen from which, combined with CO2, it will be possible to make an e-fuel, or synthetic fuel. On its website, Engie (which is not involved in the project) explains the process. As this fuel is liquid, it can be transported as easily as conventional petrol. And in this case by boat, from the port of Cabo Negro, near the Strait of Magellan.
Porsche, which is seeking carbon neutrality by 2030, thinks that this type of fuel is complementary. And the sports car brand believes that it should be developed on a global scale to faster decarbonise the world's fleet comprising 1.3 billion combustion engine vehicles. In its pilot phase, the plant will produce 130,000 litres per year. This modest volume will be used in the Porsche Mobil 1 Supercup as well as in the Porsche Experience driving centres. By 2025, production will be increased to 55 million litres and to 550 million litres two years later.
Chile is an ideal country to produce this type of fuel. The wind blows 270 days a year which keeps the wind turbines running at full capacity. But there are other projects in the pipeline in the USA and Australia. Through the Chilean-operated company HIF Global (Highly Innovative Fuels), Porsche has already invested 100 million dollars in e-fuels.
Article written by Laurent Meillaud and translated by Logan King