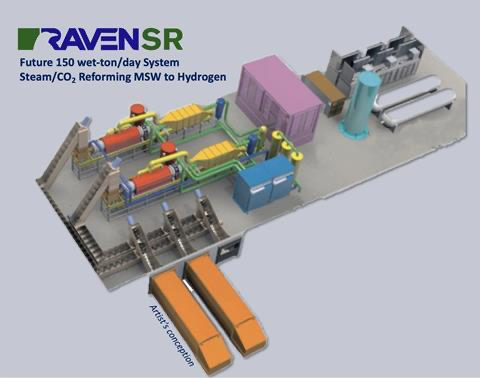 It is a partnership between a newcomer in hydrogen, Raven SR, and a gas player with expertise in CO2 liquefaction and storage, Chart. Their association will make the production of H2 from waste more virtuous.
Raven SR is a Wyoming-based company that has developed a steam reforming process to obtain hydrogen and synthetic fuels from waste (green, organic) and gas (from waste and natural wells). This generates CO2, which is captured in the process. Furthermore, Raven states that the production of hydrogen is low-carbon and even has a negative carbon footprint.
The deal with Chart will enable this carbon dioxide to be liquefied and put to use. The group, which masters the entire liquefaction chain, is also a player in the hydrogen world. Under the memorandum of understanding with Raven SR, Chart Industries will put its cryogenic carbon capture process and its CO2 and hydrogen storage solutions into practice.
This partnership will allow both the optimization of hydrogen production and the valorisation of the captured CO2.
Article written by Laurent Meillaud and translated by Logan King