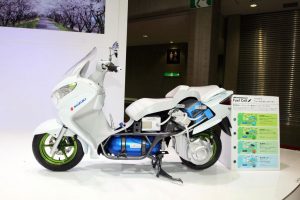 According to the Nikkei Asian Review, Suzuki Motor plans to commercialize a hydrogen-powered fuel cell motorcycle, with plans to start testing it on public roads next year.
Japan's transport ministry is expected to write safety and environmental standards for fuel cell bikes as early as January 2016. Once approved, Suzuki will begin test-driving the cycle on public roads.
The Japanese company already has a joint venture with Intelligent Energy Holdings, a U.K. venture company, that helped to develop a Burgman fuel cell scooter. The high-pressure hydrogen tank is small enough for a motorcycle.
Suzuki also intends to develop compact four-wheel vehicles that run on hydrogen.