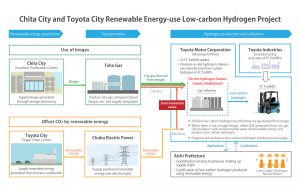 Have you ever heard about Aichi Low-carbon Hydrogen Supply Chain 2030 Vision ? This project involves in Japan the Aichi prefectural government, companies operating within the prefecture, municipal authorities, and experts.
The three pillars of the 2030 Vision are "sustained development of a regional low-carbon hydrogen supply chain," "carbon reduction in the various fields of electricity, transport, heating and industrial processes," and "elimination of dependence on fossil fuels through the expansion of hydrogen distribution volumes over a wider area," and we will work on the effective use of low-carbon hydrogen and creating partners in close conjunction with industry, academia, and government.
As a first step, Aichi Prefecture, Chita City, Toyota City, Chubu Electric Power Co., Ltd. (Chubu Electric Power), Toho Gas Co., Ltd. (Toho Gas), Toyota Motor Corporation (Toyota), and Toyota Industries Corporation (Toyota Industries) have launched the Chita City and Toyota City Renewable Energy-use Low-carbon Hydrogen Project.
More details here.