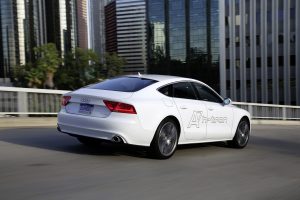 Ballard Power Systems announced that automotive OEM Audi AG has issued purchase orders to the company to accelerate certain key development activities under the current long-term Technology Solutions program that Volkswagen Group has with Ballard.
As announced by Ballard in a February 11, 2015 press release, the current 6-year engineering services contract with Volkswagen Group runs to March 2019, with an optional 2-year extension beyond that date. The contract has an estimated value of C$100-140 million (approximately US$80-112 million at the time of Ballard's press release). The resulting HyMotion program encompasses automotive fuel cell stack development as well as system design support activities.
Volkswagen Group recently transferred responsibility for fuel cell development to its Audi luxury brand, and is also accelerating the timeline for series production. The acceleration in HyMotion program activities is focused on reconfiguration of the current fuel cell stack and acceleration in the development of a next-generation fuel cell stack.