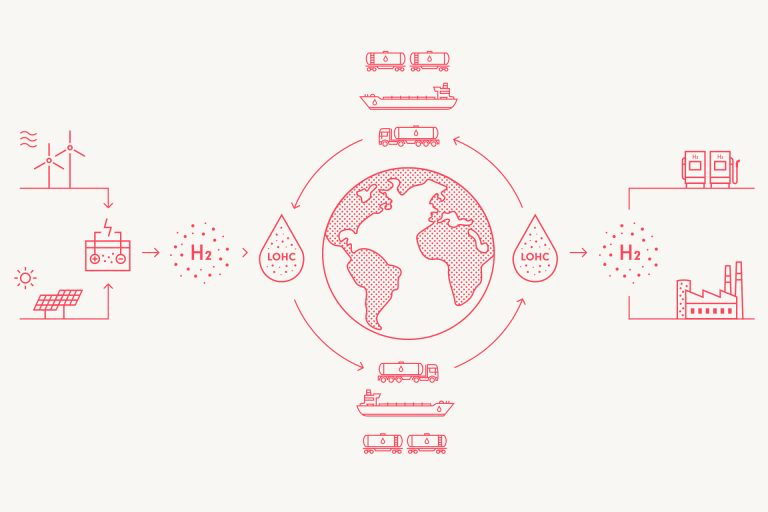 Vopak and Hydrogenious LOHC Technologies have decided to create a joint-venture, called LOHC Logistix. Its purpose will be to liquefy hydrogen to facilitate storage and transport.
The Dutch oil and gas group Vopak has been a 10% shareholder in Hydrogenious LOHC Technologies since 2019 and holds 50% of the joint venture. It also intends to finance the activities of its German partner. The liquid organic technology developed by Hydrogenious allows hydrogen to be transported with the same ease as a liquid fuel and with fewer safety constraints. It uses a heat transfer fluid based on benzyl (a toluene derivative), which is well known in the industry and allows easier handling in ports. The liquid is non-flammable and non-explosive and can be transported in ships, trains and tankers at room temperature and pressurised.
In addition, after the hydrogen is released, the LOHC (Liquid Organic Hydrogen Carrier) can be re-used hundreds of times for the same storage operation.
Hydrogenious LOHC Technologies has already sold this process on a pilot scale to partners in several countries such as Finland, Germany and the US over the past few years and it set up a complete supply chain for hydrogen mobility last summer. As an example, the company is supplying the hydrogen station in Erlangen, Germany, via LOHC, which is a world first.
The joint venture LOHC Logistix GmbH, located in Germany, will take care of the hydrogenation and dehydrogenation operations as well as the transport. In addition, the two partners have committed to accelerate the settling up of the LOHC storage plant in Chempark Dormagen (North Rhine-Westphalia), which was originally planned for 2021, as well as a hydrogen production plant in Rotterdam with a capacity of 1.5 tonnes a day.
Vopak and Hydrogenious want to make scaling up easier.
Article written by Laurent Meillaud and translated by Logan King