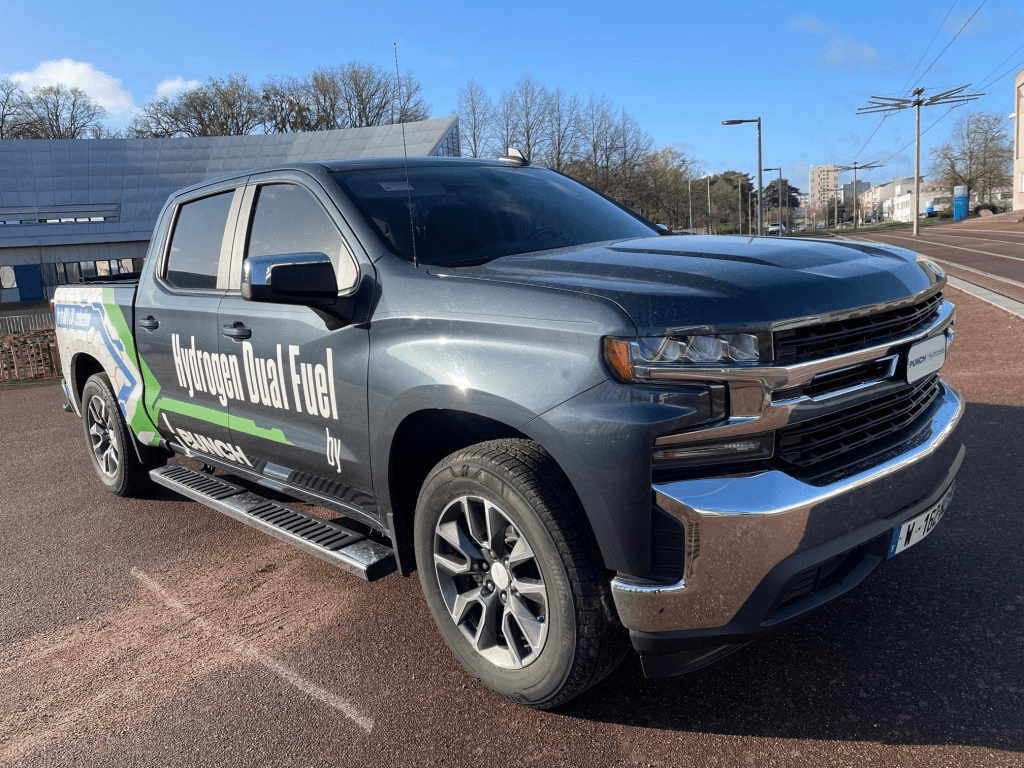 During the special day organised by the SIA* (Société des Ingénieurs de l'Automobile), in Orleans, Punch Hydrocells exhibited a pick-up capable of running on both diesel and hydrogen.
It is a vehicle that is designed for the wide-open spaces of the United States. This pick-up is none other than the Chevrolet Silverado 1500, equipped with a 3L Duramax diesel engine. Why this choice? Punch Torino was previously a subsidiary of General Motors. "And we know this engine well, we developed it," explains Andrea Almondo, head of engineering for H2 systems at Punch Hydrocells. Rebranded under the company's name, the pick-up has a dual-fuel engine.
In short, this means that it can run on diesel or on a mixture of diesel and hydrogen (up to 30%). In this configuration, the Silverado reduces CO2 emissions by 60% and particle emissions by 80%. This may not be zero emissions, but the benefits are still substantial. The hydrogen is stored at 350 bars in a small canister containing 1.8 kg of hydrogen.
For Punch Hydrocells, large pick-up and utility vehicles are possible applications for an engine of this type, as are the refuse lorries and special machines. To integrate the solution, the choice would be leaning to a 700 bar storage and larger quantities.
The Italian company is also developing a 100% hydrogen engine that can be used for stationary applications or integrated into a boat.
*An association of French engineers, managers, technicians and automotive professionals working in the automotive sector in France.
To learn more about this day organised by the SIA, see our last two articles on the subject here and there.
Article written by Laurent Meillaud and translated by Logan King