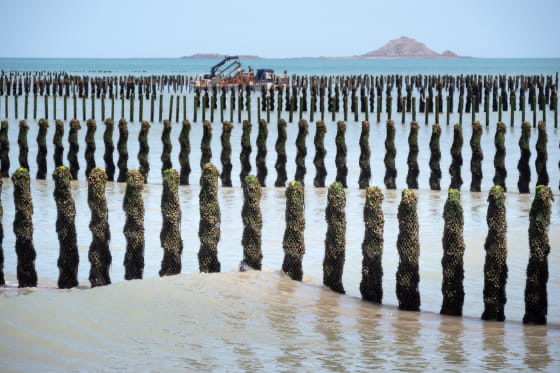 Within the framework of the Estebam project, supported by the Chamber of Commerce and Industry of the Côtes d'Armor, a barge will be retrofitted in hydrogen mode for shellfish farming. A great showcase for the Côtes d'Armor H2 cluster.
The Estebam project -which consists of studying a solution for the energy transition of an amphibious mussel barge- is one of the two winners of the call for projects for the energy transitions of the Breton fishing and aquaculture sectors, launched by the region. This project, whose financial support amounts to €249,000 (about $277,000), gathers a consortium consisting of a shipyard, a company specialising in the integration of electro-hydrogen motorisation systems aboard ships, an architectural firm and the North Brittany Regional Shellfish Farming Committee (CRC).
The Estebam project consists of analysing the various conditions (technical, regulatory, normative, economic) for converting an existing shellfish farming amphibious barge to hydrogen. It was presented in more detail on Friday, in the presence of the MP Mickaël Cosson, the Vice-President of the Regional Council, Daniel Cueff, as well as the President of the Chamber of Commerce and Industry of the Côtes-d'Armor, Jean-Claude Balanant.
This project offers a tangible outlet for the cluster that has been forming in the Saint-Brieuc conurbation around the production of green hydrogen, and which brings together nearly 200 local companies. A green hydrogen production station and two distribution stations are planned for 2025 in Les Châtelets and Les Plaines-Villes. The conurbation is already planning to invest in 14 buses and two refuse lorries, all running on hydrogen.
In the Bay of Saint-Brieuc, 14 mussel barges in Hillion and Planguenoual consume 2,240 litres of diesel every day, which corresponds to 12,000 tonnes of CO2 per year. Converting these amphibian boats to hydrogen would reduce the carbon impact by 95%.
(Sources: Actu.fr, LinkedIn, Région Bretagne, Bretagne hydrogène renouvelable)
Article written by Laurent Meillaud and translated by Logan King