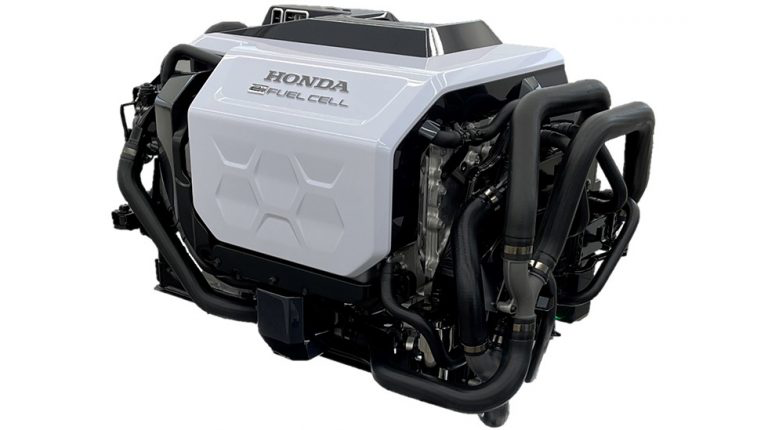 Lagging behind Toyota and Hyundai, the Japanese manufacturer also wants to expand the fields of application of the fuel cell. Beyond cars, it wants to invest in utility vehicles, construction equipment and stationary applications.
Be it hybrids or hydrogen, Honda still seems to be at a disadvantage compared to Toyota and is not enjoying the same success. However, on a technical level, the world's largest engine manufacturer has nothing to envy its rival. During a briefing held in Tokyo this week, the group presented its strategy and its latest products.
In terms of mobility, Honda first confirmed the release of a hydrogen-powered version of the CR-V. This SUV, which was launched in North America, will be powered by the latest generation of fuel cell co-developed with General Motors as part of their joint venture*. In comparison with the Clarity FCEV's fuel cell – of which the previous generation dates back to 2019 – the fuel cell is one-third cheaper and lasts twice as long. Honda and General Motors are aiming to halve the cost and double the lifespan by 2030. In addition to cars, where it expects to become more competitive by the end of the decade, the Japanese manufacturer will offer its technology in other mobility segments.
For instance, Honda has just started a test in China with a truck from Dongfeng Motor Group. And in Japan, another is planned with Isuzu Motors, with whom the brand is cooperating to develop a hydrogen truck. In Japan, Honda is also involved in infrastructure for trucks with Marubeni Corporation and Iwatani Corporation, and more globally within the Japan H2 Mobility consortium. In the US, it is working with Shell and FirstElement Fuel.
From 2025 onwards, the applications will diversify. In addition to cars and trucks, Honda will invest in construction equipment (such as excavators) and offer batteries for stationary applications. The group believes that there is a need to fulfil regarding the energy supplying of data centres. It has already conducted tests using the Clarity FCEV battery. Recently, Honda also announced its partnership with the Japanese space agency (JAXA) to produce hydrogen on the moon.
The aim is to go from 2,000 fuel cells per year in 2025 to 6,000 per year in 2030, to then reach hundreds of thousands per year in 2040.
Besides establishing as a battery supplier -which Toyota and Hyundai already are- (and in direct competition with Ballard, EKPO, Symbio and many others), Honda also intends to be a player in the ecosystem. During the briefing, it expressed its intention to join in on projects. A desire that will also lead the company to be more active in Europe.
*The two partners have been working together since 2013.
Article written by Laurent Meillaud and translated by Logan King