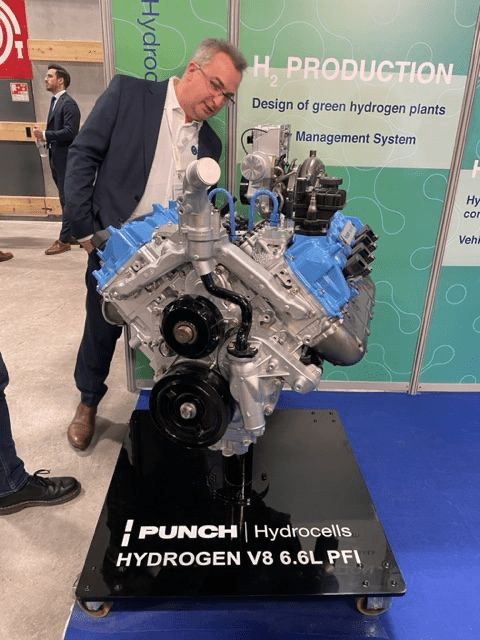 As an alternative to the fuel cell combined with an electric motor, the hydrogen combustion engine is an emerging solution. Several players are presenting it at Hyvolution.
French manufacturers are showcasing fuel cell vehicles at the show, this is the case for Hyvia and Stellantis. However, this does not prevent Renault from thinking about this concept (via its Alpine brand, which presented the superb Alpenglow concept in this same hall 6 during the last Paris Motor Show). And above all, the brand has concluded an agreement with the Punch group regarding the study of a hydrogen engine. The fact is that Punch Torino is present at Hyvolution with an H2 engine, rather intended for heavy vehicles given its capacity (6.6 L V8). It was developped by its subsidiary Hydrocells. 
The hydrogen engine can also be seen at FEV. The German engineering group is a partner of Oreca in a project that consists in developing an engine for the Dakar. But it is a bus engine weighing almost a ton that is on display and is intended for retrofitting.
Another player is also in the running. The GCK group, which competes and is preparing an H2 buggy for the Dakar, now has expertise in the hydrogen engine since the takeover of Solution F. There is no mention of this at the show, but it is potentially a solution for retrofitting. 
Alongside these manufacturers, start-ups are also hoping to make their mark. For example, the company EHP2 is presenting a small hydrogen engine at its booth. The company, created in 2018, employs people "who have extensive experience in the design, development and production of multi-sector powertrains." It operates mainly in niche markets in the aerospace, defence, prototype car, motor racing, marine and off-road sectors. 
On the Brittany pavilion, the start-up EHM (Efficient Hydrogen Motors), created in May 2022, aims to design, manufacture and market a hydrogen combustion engine dedicated to the retrofit of heavy vehicles over 5 years old. Its engine is not yet visible, but it claims a partnership with the Alliance Automotive Group – a European leader in spare parts – for a retrofit offer in partner garages.
Article written by Laurent Meillaud and translated by Logan King