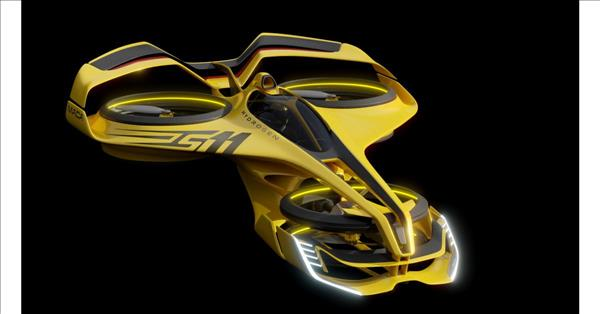 There are no hydrogen cars to be seen at this year's famous technology show. However, this form of electrification is taking to the skies.
On the ground, Symbio (a subsidiary of Faurecia and Michelin) took advantage of the show to unveil its new generation of fuel cells. Regarding Faurecia, it is focusing on its cutting-edge hydrogen storage system, which is an innovative prismatic composite structure that offers 40% more storage capacity than cylindrical tanks, for greater autonomy. The company says it is ready to provide next-generation solutions to help automakers meet the critical challenges of zero-emission and fuel cell integration. The Stellantis Group, which is prominent at this year's CES (Consumer Electronics Show), has not given any comment yet as regards to its intention to join Symbio.
The only hydrogen-powered vehicle on display at the Show is a truck, designed by the Cenntro Electric group. It is called LM864H and is equipped with fuel cells and 8 tanks.
On the French side, the start-up Maca returned to Vegas to present the new version of its flying Formula 1, the S11 Flying Race Car. The company, which is aiming for a first flight at the end of the year, has signed agreements with Red Bull Advanced Technologies and Segula Technologies. The vehicle is expected to fly over car racing circuits.
Since we are in the air, let's talk about the Korean company SK who presented a drone powered with liquid hydrogen, which was developed by its E&S subsidiary. The group announced a flight time that is 26 times longer than that of batteries, and 6 times longer than that of gaseous hydrogen. It is to be noted that SK invited Plug Power to its stand to present an H2 generator and a filling station.
Panasonic is communicating on the production of green hydrogen, notably through its electrolysis process using alkaline technology. The Japanese firm, which produces batteries, has revealed that it has been working on fuel cells for two decades and that it intends to position itself on the value chain. The group's technical director, Tatsuo Ogawa, took the opportunity to confide that Japan should go faster on hydrogen, since it is going to be overtaken by other countries including the United States.
Shipping-wise, HD Hyundai (formerly Hyundai Heavy Industries) has announced its intention to decarbonise the sector. The company will build an ammonia carrier with a capacity of 90,000 m3 and a liquid hydrogen carrier with a capacity of 40,000 m3. It is also working with the Fraunhofer Institute in Germany to develop solid oxide batteries.
Article written by Laurent Meillaud and translated by Logan King