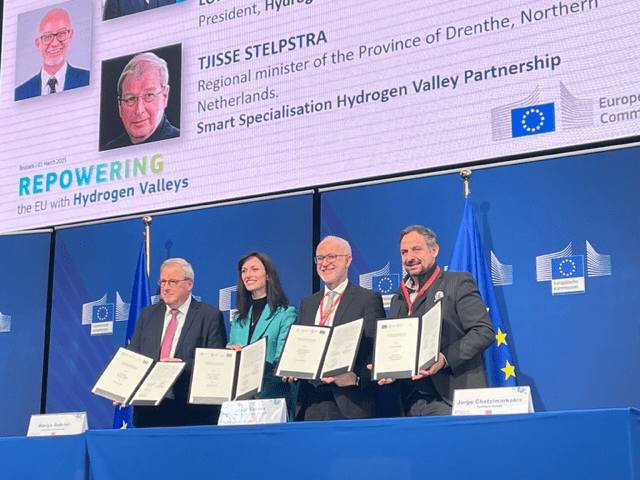 A joint declaration was signed to accelerate the deployment of hydrogen valleys in Europe during a high-level conference in Brussels, on Wednesday, 1st March.
It was signed by: Mariya Gabriel, Commissioner for Research and Innovation; Melissa Veikyos, Chair of the Clean Hydrogen Partnership Board of Directors; Jorgo Chatzimarkakis, CEO of Hydrogen Europe; Luigi Crema, President of Hydrogen Europe Research. Tjisse Stelpstra, regional minister in the Netherlands and pioneer of these H2 valleys was also present. At the press conference that followed, Hydrogen Today had the privilege of asking the first question ("How is this a milestone, and does it mean better cooperation between the different regions of Europe?)
Mariya Gabriel replied that it was necessary to "move faster" and bring about "greater cooperation between industry, scientists and local authorities, "a 'community' that really wants to develop hydrogen. "Synergies" must be used as much as possible. The signature of this joint declaration is a "historic moment." The Commission's aim is to double the number of these valleys by 2025 and eventually, to have a 100 of them by 2030.
Listen to her interview (in French) here.
Jorgo Chatzimarkakis of Hydrogen Europe added that it was necessary to accelerate and that "Europe had no more time to lose" so he naturally welcomed this initiative by Ms Gabriel.
Listen to his interview (in French) here.
Hydrogen Today also spoke to Bart Biebuyck, Executive Director of the Clean Hydrogen Partnership (formerly FCH-JU), who, spoke about the development of the H2 sector in Europe, a few months before the end of his mandate.
Listen to his interview (in French) here. 
Article written by Laurent Meillaud and translated by Logan King