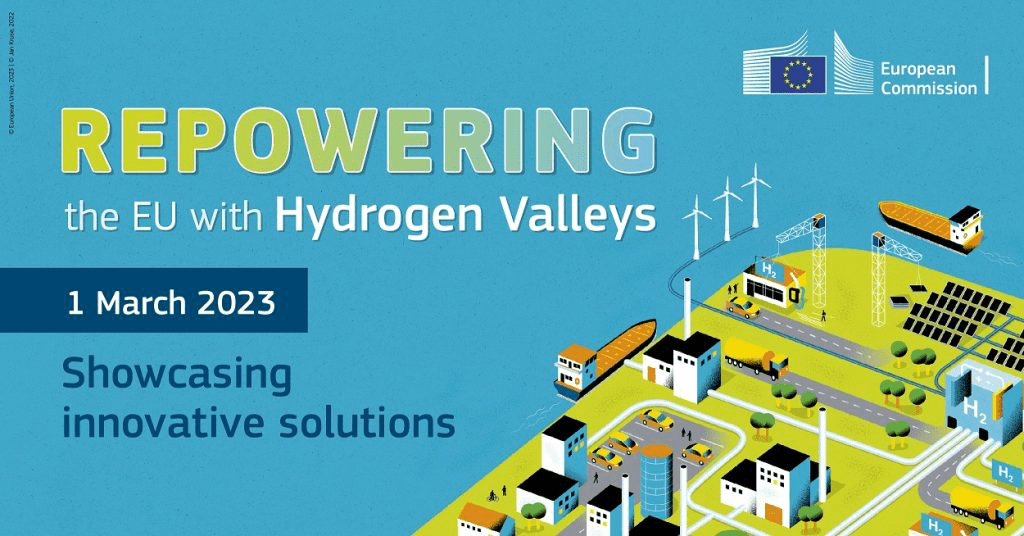 As a high-level conference is being held on this topic in Brussels today, it is an opportunity to recall what this concept of hydrogen valleys is.
These valleys are regional ecosystems that combine hydrogen production and uses for mobility and industry. They also have the particularity of using renewable energies, using an existing gas transport infrastructure, while complementing the electricity grid. These valleys can be small, medium or large enough to cross borders. Clean Hydrogen Partnership (formerly FCH-JU) has been supporting the development of such valleys (H2Vs) since 2014. Today, there are 37 such valleys in 20 countries around the world, including 25 in Europe (as identified by the Mission Innovation Hydrogen Valleys platform). In France, these are mostly found in Normandy, in the AURA region, and to a lesser extent in the Dijon region of Bourgogne-Franche-Comté.
The aim is to double the number of these valleys by 2025, within the framework of RepowerEU. The European Commission has also released €200 million (about $213 million) to finance their development. The ambition is to reach 100 valleys by 2030.
At the end of January, the Clean Hydrogen Partnership selected 9 of these valleys as part of a call for projects in order to finance innovative projects. The projects have a budget of €105.4 million (around $112 million) and address a variety of uses across energy, transport and industry. Among the winners, two hydrogen valleys have a potential of 5,000 tonnes of hydrogen per year. These are an island arc in the northern Adriatic Sea (Croatia, the autonomous region of Friuli-Venezia Giulia in Italy, Slovenia) and a corridor in the Baltic Sea linking Estonia and southern Finland. These two valleys will receive a €25 million aid (about $26.7 million).
7 smaller valleys (500 tonnes of hydrogen per year) have been selected in Bulgaria (Stara Zagora), Greece (Crete and Corinth), Ireland (Galway), Italy (Lombardy), Turkey (south of Marmara) and Luxembourg.
Today's programme of the conference, which is organised by Commissioner Mariya Gabriel, includes the signing of a joint declaration by the European Commission, Hydrogen Europe, Hydrogen Europe Research and the S3 H2 Valleys platform.*
*S3 H2 Valleys platform was founded by the AURA region, Normandy, the province of Aragon in Spain and the northern region of the Netherlands. It brings together several local authorities and regions across Europe, including, in France, Bourgogne-Franche Comté, Brittany, the Centre Val de Loire, the city of Chaumont, the Grand Est, New Aquitaine, Occitania, the Pays de la Loire, the city of Sarreguemines and the Southern Region.
Article written by Laurent Meillaud and translated by Logan King