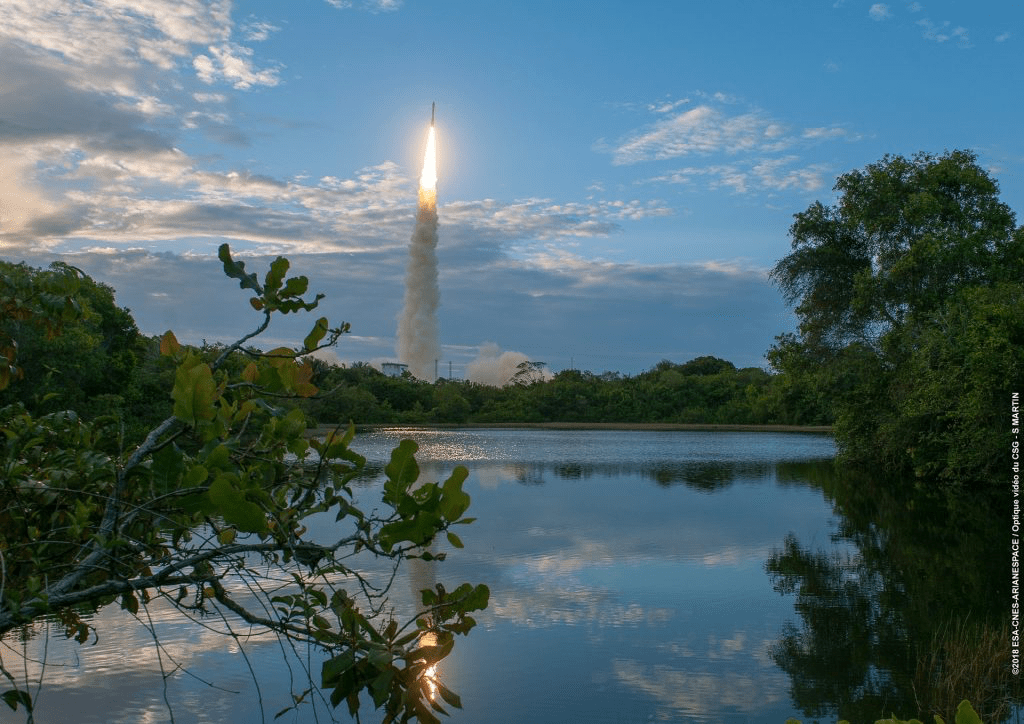 The Guiana Space Centre (CSG), in partnership with the European Space Agency (ESA) and the 'Centre National d'Etudes Scientifiques' (CNES), is behind the Hyguane project, which aims to produce 130 tonnes of green hydrogen per year.
In French Guiana, hydrogen projects do not always go according to plan (see our article on the CEOG plant), but a priori there will be no problem with Hyguane. This project, whose full name is 'Hydrogène Guyanais à Neutralité Environnementale' (environmentally neutral Guianese hydrogen), also brings together Air Liquide, SARA, MT-Aerospace, Be.Blue, but also the University of Guyana and the University of Liège (France). Its ambition is to move away from grey hydrogen* and make space flights 'green'. The Ariane 6 rocket will be propelled by green hydrogen, produced by electrolysis using renewable electricity from solar panels.
The Guiana Space Centre will house the solar fields and the electrolysis facilities. Ultimately, the aim is to produce 130 tonnes of green hydrogen per year. This hydrogen will be liquefied for the needs of Ariane's launchers. But it will also be used in gaseous form for ground mobility. Hydrogen made in Kourou could be used to power buses and other vehicles that can be retrofitted with hydrogen.
The project could also lead to the creation of a hydrogen centre of expertise in French Guiana, with a view to developing a local industry. This is contained in the letter of intent, signed by the partners on 17 June 2022 .
The setting up of Hyguane depends on funding from France Relance.
*Until now, hydrogen has been produced by the Air Liquide Space Guyane (ALSG) plant at the Guiana Space Centre (CSG) by steam reforming methanol imported from Trinidad and Tobago, a process that directly generates a large amount of CO2. Ariane 5 carries 162 tonnes of liquid oxygen at -183°C and 28 tonnes of liquid hydrogen at -252.87°C in its huge central tank.

Article written by Laurent Meillaud and translated by Logan King