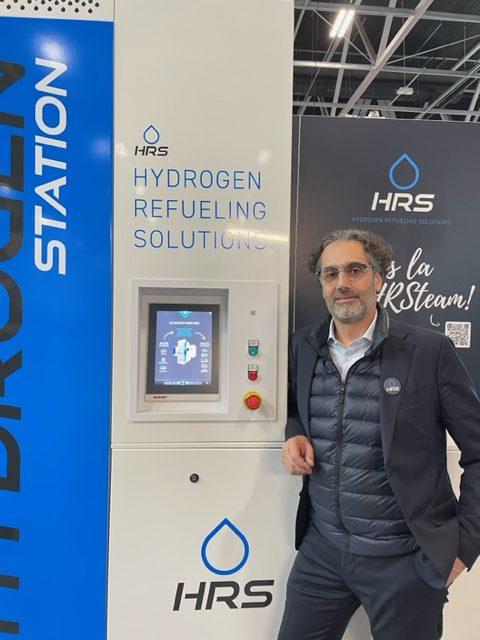 Hyvolution: our interview of Olivier Dhez (HRS)
During Hyvolution, Olivier Dhez, Executive Vice-President of HRS – a French hydrogen refuelling stations manufacturer – talked to us about their high-capacity stations. 
What you will find in Olivier Dhez' interview
He starts by explaining that developing stations is the great concern regarding mobility "you may well produce hydrogen and have vehicles, if you can't link both you won't have any vehicles on the roads." He adds that HRS is trying to spread a new denomination for stations. Instead of measuring the capacity of a station in kilogram per day they would rather use a kilogram per hour measure. Why? Because it may help apprehend pick usages better. The group presented its newest station earlier today: the HRS 40 (which has a delivering capacity of 40kg per hour). Olivier Dhez says they are currently working on the HRS 80.
In his opinion, "setting off the hydrogen mobilty will revolve around intensive uses i.e. people who need a vehicle available all the time such as taxi drivers and last mile deliveries. However, since these vehicles will remain on a given perimeter, it will not be necessary to have an extended network of stations but having rather a few stations in the cities or hubs will be sufficient to start off and benefit from hydrogen's advantage i.e. rapid refuelling."
What about heavy mobility
He adds that heavy mobility is another relevant segment for hydrogen mobility because you need power. And "a truck can carry between 40 and 80 kilos of hydrogen which provides a 400 to 600 kilometres range." However, "higher capacity stations are needed since one refuelling can go as high as 80 kilos of hydrogen. Hence the interest of heading towards HRS 80 or higher."
He concludes by saying that HRS is also expanding to Spain, where it has just signed a contract with Phoenix for 8 stations, but also Italy, Germany, Netherlands and Belgium.
The whole interview is available here (in French).
Did you like our interview of Olivier Dhez as part of Hyvolution? Then these other 2 interviews (here and there) should interest you.