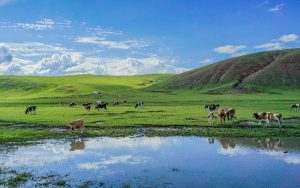 According to the Bloomberg agency, China's Inner Mongolia region has endorsed a project that will use the solar and wind power to mass-produce green hydrogen. The site will have a capacity of 2.2 GW. Consequently, it will become the largest development of its kind in China.
The Energy Administration of Inner Mongolia has authorised a group of power plants in the cities of Ordos and Baotou that will use 1.85 gigawatts of solar energy and 370 megawatts of wind power to produce 66,900 metric tons of green hydrogen a year. Most of the electricity generated will be intended to obtain hydrogen, with less than 20% being redistributed into the electricity grid.
Development is to start in October and the projects will be operational by mid-2023. For now, neither the cost nor the names of the partners are known.
Article written by Laurent Meillaud and translated by Logan King.