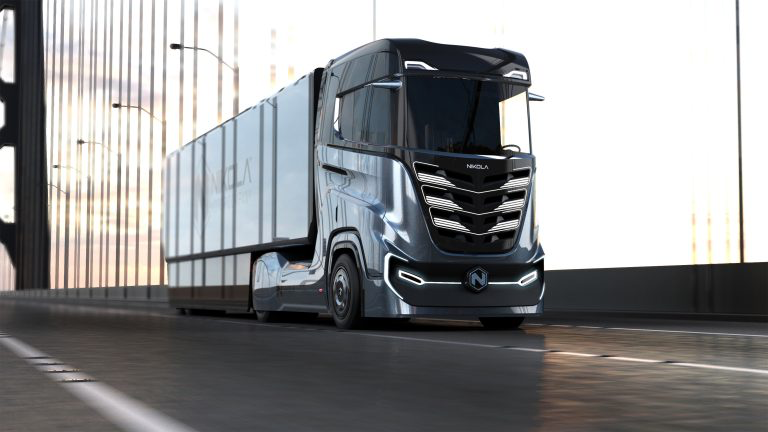 The electric and hydrogen trucks manufacturer has announced orders and projects. The context seems promising, especially since its trucks should have specific financial support in California.
Yes, letters of intent are not the most reliable of sources… But, if confirmed, the GP Joule group would order 100 hydrogen trucks (the Nikola Tre FCEV). This German operator, specialised in renewable energies (wind, solar) is also a producer of green hydrogen. It is involved in hydrogen refuelling stations (through the Greater4H project, where it will build two stations in Germany by 2025) and is particularly interested in heavy goods vehicles. It has signed an agreement with the logistics company Clean Logistics to acquire a fleet of 5,000 trucks retrofitted with hydrogen. Back to Nikola, it will deliver 30 trucks in 2024 and the remaining 70 in 2025 under a leasing agreement. GP Joule and Nikola also plan to market more trucks in Europe from 2026. The trucks will be produced in the Ulm plant as part of the joint venture between the American manufacturer and Iveco.
The manufacturer has also announced a further order for 15 units of the Tre FCEV. The trucks will be delivered to the logistics company Biagi Bros in California. It should be remembered that the CARB in California has recognised Nikola's trucks as eligible for subsidies (although it has not been validated yet).
Nikola has also signed a memorandum of understanding with Fortescue Future Industries (FFI) in order to study the possibility of cooperation on major hydrogen projects in the United States. The two partners could jointly produce hydrogen and develop a filling infrastructure.
In the meantime, the Phoenix-based company has developed a mobile station. The result of two years' work, this concept can carry 960 kg of hydrogen and fill up trucks at a pressure of 700 bar. The first unit is already operational and others will follow during the quarter. Nikola's mobile station can also be opened up to other partners.
Article written by Laurent Meillaud and translated by Logan King